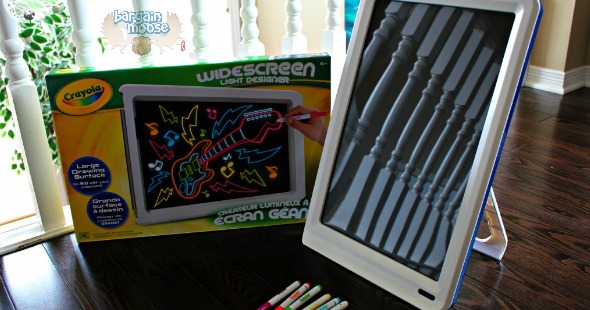 The Winter is almost over - but it feels like it is going by so slowly. You might be looking for something to keep the kids occupied long enough indoors so that you are not ripping your hair out. Right now you can get the Crayola Widescreen Light Designer for 50% off at Amazon.ca. This discount leaves you paying just $19.99! You can get free shipping on orders over $25 too.
The Crayola Widescreen Light Designer from Amazon Canada will cost you just $19.99. The ability for your children to draw and display their art will be priceless though. Your little one will have lots of room to doodle, create a masterpiece or even make a to-do list. The drawing surface is actually quite large. When you are done, simply wipe the surface clean and start over again.
This Crayola Widescreen Light Designer is best suited for children ages 5-8 but my son has played with my nephew's light designer quite often and he is only two. Just turn on the lights to bring the creation to life and any child will be entertained. You may even find yourself doodling away.
This seems to be the lowest price available so far for the Crayola Widescreen Light Designer. All other Canadian retailers seem to be selling this product for upwards of $31. To give you a quick idea of the price comparisons, I made a short list of other retailers that are selling this same toy:
The Crayola Widescreen Light Designer from Amazon.ca comes with 6 different Mini Gel FX Markers. While the surface easily wipes clean, some reviews say to be careful not to scratch the screen with paper towel or rough material. There are also 7 different lighting effects to make your creations even more interesting. You can either display your art with the wall mount or panel kickstand. Here is one of the customer reviews:
My daughter loves this, and I think it's a great idea. The different lighting effects are a bonus. Everything is awesome and looks nice and bright. The colours show up really well. My only complaint is the screen doesn't wipe clean very well. After using it a few times and wiping it clean it left small scratches.
You can get free shipping from Amazon.ca if you spend over $25, so maybe add something else small to your cart to get the best benefit of this offer.
(Expiry: Unknown)