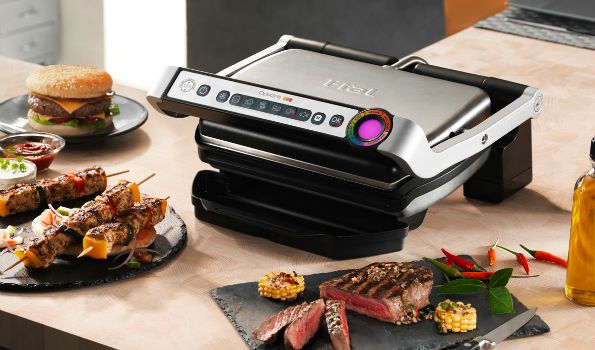 I love healthier grilled chicken and steaks all year round. Check out the T-Fal Optigrill that was $260 but is on sale at Shop.ca for $149.99. When you add our coupon codeMOOSE50OFF125JULY, you knock an additional $50 off your purchase. That brings you total down to only $99.99 and shipping is completely free.
I have been eyeing a similar tabletop grill for quite a while now and just have never made the plunge. Now is the time to jump, because the price for this smart grill just got hot. The most impressive part of this machine is the automatic sensors that tell you if the meat is done. This machine will automatically sense the thickness and will regulate the temperature. The indicator on the side lets you know when the meat is at the perfect temperature and is colour coded for rare, medium and well-done cuts of meat. You can also cook the meat from frozen, which saves so much time, especially on weeknights. This grill looks to be about the right size for two people, but it cooks fast so you could whip out food for three or four easily also.
Unlike the cheapie grills, this grill will ensure your food is cooked evenly on both sides. The plates are also removable and dishwasher safe. That is much easier and safer than the cleaning method I used with my old George Foreman of placing soaking wet paper towels on the hot griddle after I cooked. It is so much easier to be able to remove the plates for cleaning and avoid potential damage to the electronics.
This smart grill is available at many retailers right now and costs much more. Amazon Canada currently has the lowest price on this indoor grill, selling it for $179.99. Walmart Canada is selling this indoor grill for $199.97. Bed Bath and Beyond Canada has this grill for $199.99. You could pick up this indoor grill at Hudson's Bay for $259.99. Sears Canada is also selling this tabletop grill for $259.99. Phew, you could have your pick of the litter but that Shop.ca price still beats them all.
Reviews are looking good for this grill at every retailer I visit. Here is one happy review from Hudson's Bay.
This thing is fast! WOW, I cooked a sirloin steak and within 5 minutes (after a 5 min pre-heat) it beeped to say it was done. I wanted a medium-rare steak and I was highly doubtful that the steak was done. I was shocked! This steak was cooked perfectly. So yummy! I would highly recommend this to friends and I have. Fantastic T-Fal...

It may be summer now, but you will love having grilled meat all winter long. If you are a fan of Panini-style sandwiches, that is yet another added perk of this machine. Pick up this fantastic grill now. This is the biggest price drop I have seen on this grill.
(Expiry: Unknown)