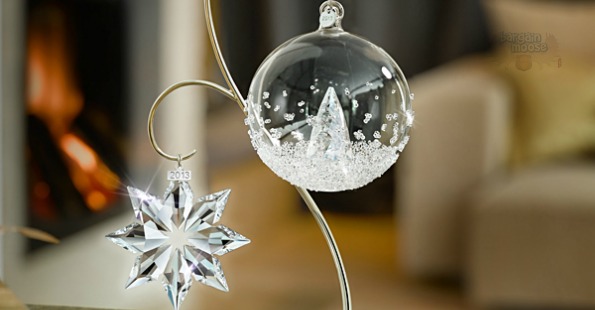 Buying your love something sparkly this season? Take advantage of this free gift with purchase to get an owl charm with any purchase of $190 or more.
I once was pretty obsessed with Swarovski. They make some of the most beautiful things I have ever seen and I could not get enough of them! They are still the brand I own the most jewellery of: a pair of earrings, a bracelet, and two necklaces. I always get compliments on this jewellery when I wear it because the pieces are just so beautiful. However, jewellery isn't the only thing they do well. They have the most lovely selection of holiday items this year that are drool worthy! The annual Christmas Ball Ornamentis just lovely and retails for $115. They also have their annual Christmas Ornament which is a crystal star this year for $85. You can pick them up separately or get them as a setfor $220 which includes a metal stand. If you got the set you would also get a lovely owl charm for free.
The free item will show up in your cart when you arrive at the minimum purchase requirement. If it does not they are probably all sold out.
Get free shipping on orders of $120 or more.
(Expiry: Unknown)