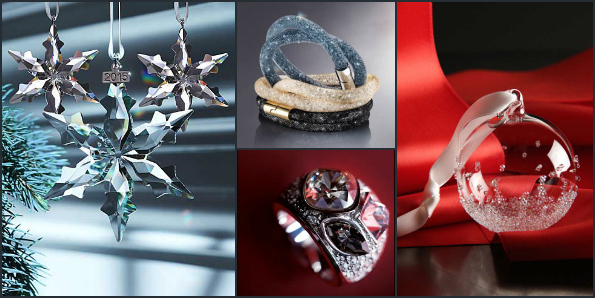 Swarovski Canada has released a very RARE deal for this Cyber Monday. Automatically receive 25% off all orders of $150 or more worth of beautiful crystal jewellery, ornaments, and more. You will receive free shipping as well because Swarovski offers free shipping on $120+ before the discount. Make sure to request a free gift bag and a free greeting card in your cart.
To test this little deal out - and to make sure that that free shipping on $120 was pre-discount - I added a couple beautiful pieces to my cart. This set of Tricia Pierced Earrings retails for $69. The earrings come down to $51.50 when I have $150 in my cart. Each earring is adorned with a beautiful white crystal pearl offering simple elegance to any outfit. Second, I chose the matching Tricia Pendant because receiving a gift set is always delightful. It shows the thought and effort put into the gift. The necklace retails for $89 but comes down to $66.75 when I have $150 in my cart. Together, the necklace and the earrings were above $150: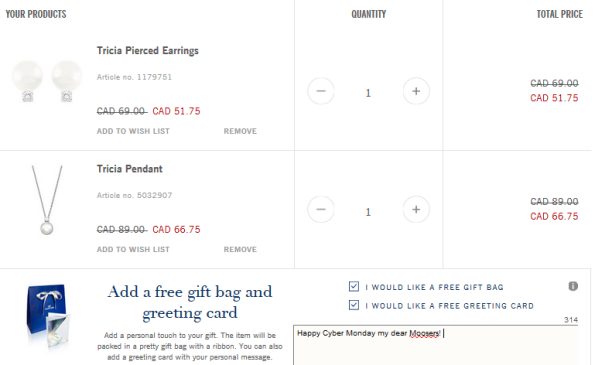 My total came down from $158 down to just $118.50 with free shipping, a free gift bag, and a free greeting card too (just check the boxes like I did).
If you are a little bit lost on what to buy your loved one, I cannot recommend the Stardust Gradient Bracelets enough. They are absolutely stunning and an amazing price at only $69 each. They come down to just $51.50 each when you have $150 or more in your cart. There are several reasons why I recommend these bracelets. First, you get to choose the size (medium or small) based on her wrist. Secondly, there are 11 colours available in this bracelet, which makes it the perfect choice. All you need to know is her favourite colour. My favourite colours right now are black and purple - I can get a bracelet in each. I also love these bracelets because they seem to be amazing quality and give really good value for the price.
There are also some holiday traditions you can start or continue. The Baby's First Christmas Ornament, Annual Edition 2015 retails for $70 but comes down to $52.50 when you add $150 or more to your cart.
There are also three limited edition 2015 Christmas ornaments.
The discounted price is only once you reach $150 worth in your cart. This is a fantastic sale and now is a good time to pick up some beautiful new Swarovski pieces.
(Expiry: 30th November 2015)