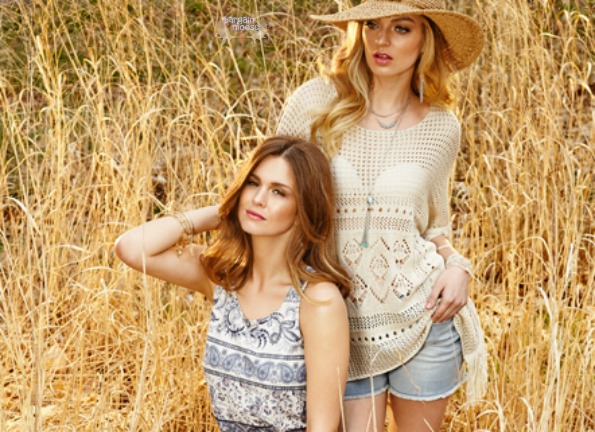 Suzy Shier's got a hot sale on today with 40% off the entire store, although it doesn't include the sale section, where items are already up to 50% off.
Suzy Shier used to be one of my favourite stores and I'm not sure why I haven't shopped there lately. We don't often blog about them, but with their sale on today only and in store from just 5pm to 9pm, I thought I'd see what they have available to spruce up my wardrobe.
Checking into the new arrivals section is the best way to be as fashion forward as possible, and with a 40% discount on top.
Most women love having nice dresses for summer, for lounging, picnics, BBQs and more. Dresses are so versatile that you can be dressed up and dressed down at the same time. This variegated striped maxi dress is perfect! I love that it is longer in the back and just below the knee in the front because I always seem to trip over the maxi dresses that are down to my ankle in the front. Plus, I like showing off a bit of leg without wearing a short dress all the time. Regularly $36, once you add this dress to your cart, you'll see your discount and pay only $21.60 for this dress. I thought the $36 price point was already reasonable so scoring this dress for just over $20 is very sweet indeed.
For the curvy Suzy woman, they have a great selection of summer dresses as well. This tribal print dress comes in sizes 1x, 2x and 3x and is very pretty with an above the knee style. I find this style of dress also very flattering. Regularly $46, it is now only $27.60. Again, another sweet find.
I love checking out store's athletic wear section and Suzy has quite a stocked one. I can't get enough athletic capri leggings and these ones are only $30 regularly. After discount, that price drops down to $18! You can get quite a few pairs for this price.
Shipping is free on orders over $100, so fill up your cart with these hot deals. What's even more awesome is that this price is calculated on the regular price of the items, not the sale price. So once your cart adds up to $100 before discount, you'll get free shipping! Even though my cart for these three items adds up to $67, because the before discount cost was $112, I got free shipping.
(Expiry: 28th May 2015)