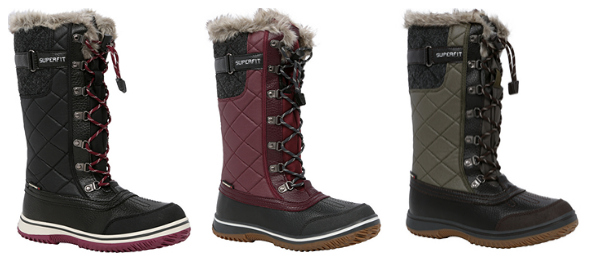 Globo Shoes is offering 50% off select women's boots for all occasions. As we are nearing the Winter Solstice - I have snow on the brain. These Superfit Winter Boots offer all the warmth and insulation you need to get through the colder winter months. Originally $109.99, these boots are now on sale for $54.99. Use the coupon code GLOBO2015 for an extra 10%off your order, thus bringing the boots down to just $49.49 with free shipping (no minimum). According to my cart, they should arrive by December 23rd if you order today.
These look like a super-warm pair of boots that will keep you dry doing the winter months. These boots are tall, with a rubber foot, textile upper, and faux fur lining on the inside. The rubber foot is waterproof, so slush, snow, rain, and puddles will not leak through. The inside lining is soft and warm, keeping you comfortable all day long.
These boots both lace-up via a draw strong and zip up. Simply zip the boots up with the laces loose. Then, tighten up the laces for the perfect fit. Leave the laces fixed with the drawstring clamp and use the zipper to get in and out of your boots after that. It is the best of both worlds: a perfect fit and easy in and out of your boots.
There are three colour combinations and all sizes appear to still be in stock. You can get black (with a purple sole), purple, or a dark brown. I am tied between the black and the purple but would probably choose black as it matches with more things.
There is only one review on the website, and the customer gave the boots a 4/5 even though they didn't fit her wide feet:
They are a nice looking boot, and look like they would be nice and warm. I'm sad that they don't offer a wider boot. But if you have narrow feet and small calves, then this could be the boot for you.
I have wide feet myself, so I know that these boots would just not be right for me. I also have substantial calf muscles so a double 'no'. However, lots of women are more on the average to small size when it comes to width so these boots would be perfect for them.
(Expiry: Unknown)