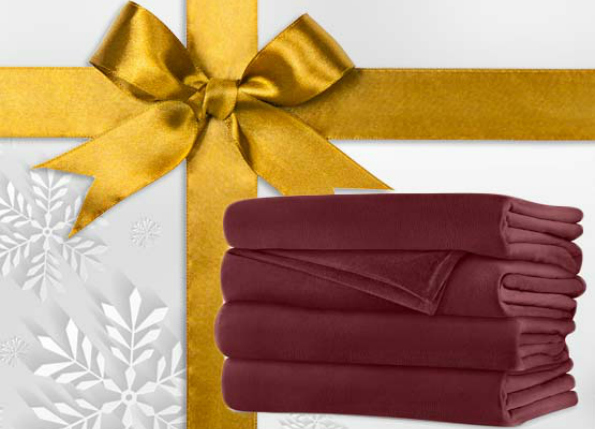 The temperature is dropping and I am starting to pile blankets on top of my usual blankets just to keep warm at night. Then I spotted this one day deal from Shop.ca Pick up the Sunbeam Royal Mink Heated Blanket - king size - on sale from $329.99 down to $165. Use our exclusive coupon codeMOOSE10 for an extra $10 off $150, bringing your total down to $155 for a king-size heated blanket. Receive free shipping on your entire order.
I price compared the king size heated blanket with other retailers just to make sure this is the best deal. The exact same Sunbeam King Royal Mink Heated Blanket costs $309.99 @ Sunbeam Canada and $245.30 @ Amazon Canada (in one colour - the other colour is $20 more). There are two other sizes you can purchase as well:
Twin Was $199.99 | Now $100
Full/Queen Was $279.99 | Now $140
While Amazon Canada does not have the twin size heated blanket, it does sell the queen. The cheapest Sunbeam Royal Mink Heated Blanket in queen size costs $222.87 at Amazon. I managed to compare the twin-size at Sears Canada where it retailed for $189.99 but is subsequently sold out.
While the king-size heated blanket is the best deal because of the added $10 coupon you can use on it, the other sizes are great deals in their own right as well. Shop.ca's price certainly beats out the competition by a long shot.
The Royal Mink blanket is soft and cosy with a personalized Ambient Temperature Compensation and ThermoFine technology to auto-adjust for consistent heat control with 10-heat settings. The preheat-setting warms up a cold bed before you slip in to bed. There is also an auto-off setting so your blanket will remember to shut off when you forget.
Even though this is an electric blanket, it is both machine-washable and dryer-safe. Do not worry about the occasional spill as you can easily clean this blanket up.
Now, I have a queen bed but I like to buy all my blankets in 'king-size'. When one person tends to steal the blankets all the time, it is nice to have an extra wide blanket to keep both parties covered. If you have a pet that likes to crowd in as well, you will enjoy the extra room. Pick one of these up for Christmas.
(Expiry: 20th November 2015)