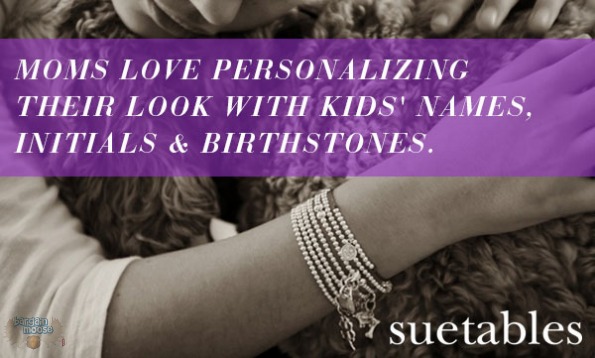 Talk about a triple whammy! Buy Mom a beautiful personalized piece of jewelry that is over $100, and you will receive a bonus subscription to Today's Parent magazine. And as if that wasn't enough, from May 1st to 31st, Suetables will donate 20% of each sale to SickKids Foundation!
Suetables is a Canadian company that specializes in unique and one-of-a-kind hand-stamped sterling silver jewelry. I've been on the hunt for the perfect Mother's Day present, and I may have just hit the jackpot! There are so many stunning pieces and I love the fact that you can create your own jewelry and have it personalized, for that added touch.
Ok, so I know I'm supposed to be picking out something for Mom, but I just to mention this beautiful Gwyneth LOVE Ring. It is simple, yet classic, with the word "love" as the focal point. Available in sizes 5 to 9, you can pick up this ring for just $25.
I bet Mom would love this Erin big/small with charms ($91) elastic ball bracelet. Layering is all the rage right now, and this bracelet makes it easy to do so. It comes with a Pearl of Wisdom charm (worth $14) and a Little Linton (worth $22). The Little Linton is where you put your creativity to work. It can hold up to 10 letters, so why not put your name on it, so Mom can always remember who gave it to her?
If you'd like to add a few more charms, there are some nice options to choose from. Prices of additional charms vary from $2 each, all the way up to $28 each. If you don't think you'll be able to see your Mom on Mother's Day, have it sent to her in a nice purple gift box ($2), with a free hand-written note to go with it.
As I had mentioned earlier, if you spend $100 or more on jewelry, you will receive a bonus subscription to Today's Parent magazine (valued at $12.95) with your purchase.
Shipping will be $10 if you live in Ontario or Quebec. For all other provinces, the fee is $14. If you really go all out and spend $300 or more, shipping is free! Expect to receive your order in approximately one week.
(Expiry: Limited Time Offer)