Is anyone thinking of buying a delightful Dyson? Home Outfitters might have a deal you can get your teeth into! Apparently, if you buy a Dyson vacuum cleaner from Home Outfitters, they will reward you with ONE MILLION HBC points! That's humungous!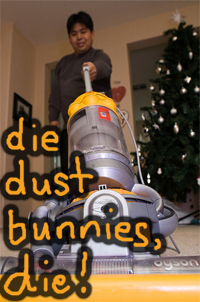 (Valid to Thursday 7th May 2009)
As always, I'll quote my motto, price compare before you buy! Just because you're getting 1 million HBC points for free, doesn't mean this is the best deal out there. Check at other stores and make sure you are getting a great bargain before you fork out five hundred big ones.
I can't recall if I ever mentioned it on the Bargainmoose blog, but I used to work in an electrical goods store, and I even used to sell Dysons! I have to say that I never really liked Dyson cleaners. I always thought that there were too many bits and pieces, too many bits that came apart, too much to go wrong really! But after hearing a lot of customers share their experiences, my view of Dyson has improved quite a bit.
I think the models designed specifically for people with pets or allergies are particularly good. They do also seem to be very powerful, and great at picking up pet hairs. I think that they are pretty expensive to start off with, but could be well worth the investment.
Speaking of Dyson, have you seen those new super-magic-hand-dryers that are in public restrooms? They are called the Dyson airblade, and they actually took me a while to figure out, when I first saw one. I think it was in an airport I was passing through … somewhere in the world. Might have been London, might have been Chicago, can't quite recall! They dry your hands in a micro-second! Well, OK, I'm exaggerating slightly. Maybe 2 micro-seconds.
Do you have a Dyson cleaner? Would you recommend it??
Thanks arkworld!