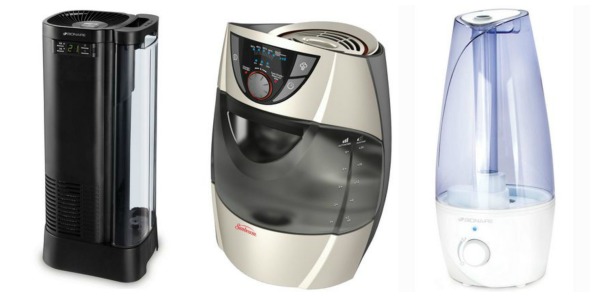 Looks like Walmart is clearing out its humidifiers! I suppose that for some parts of the country, winter is almost over. It's not the case here in the Maritimes and it seems like the cold and flu season is just starting. If you or your child have a cold, or the flu, you can get a humidifier from Walmart right now at up to 50% off. They are can really help if you have a stuffy nose, allergies, or respiratory issues.

There's about 7 humidifiers featured in this sale, and most of them are produced by the trusty Sunbeam brand. Some produce a cool mist, some produce a warm mist, so there are different options suite to your preferences. I especially like the features in the Sunbeam Designer Series Warm Mist Humidifier, since it includes an integrated medicine tray to relieve your sore throat. It is now only $55, and was previously $79.98.
If you're looking for an inexpensive humidifier, check out this Bionaire Ultrasonic Humidifier, now 50% off for only $35. It has an ultra quiet operation and a 20-hour run time.
Shipping is free on the humidifiers that are over $50. If you your purchase doesn't meet the $50 free shipping minimum, ALL of the humidifiers on sale can be shipped for free shipping at your local Grab & Go location, or your local Canada Post location.
(Expiry: Unknown)