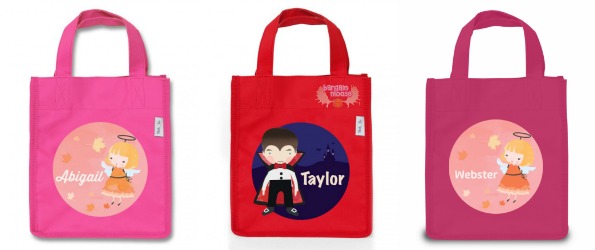 I found a fun coupon code from Stuck on You that said it would take $10 off your order of at least $20, but after adding it to my cart, it gave me a much better discount! Get a very cool personalized trick or treat bag for your child, regularly $19.95 plus a Halloween bag tag, regularly $6.95 for only $12.90 for both once you use the coupon code, which means you actually get $16.95 off.
Click here to shop @ Stuckonyou.ca now
Coupon Code: THANKYOU10
Discount: At least $10 off
Expiry: 1st November 2015
Halloween is almost here and while your kid could use a plastic bag or even a pillowcase, these personalized trick or treat bags are too cute to pass up and can be used year after year.There are three different designs - two for girls and one for boys - in pink, red or navy. You can add the child's name or whatever personalization you choose. They have two great reviews on the site:
Love this bag! Such a cute and fun thing to do for Halloween! Great quality!
Now, to use this coupon, you need a minimum of $20 in your cart and this item falls $0.05 short. So I saw those cute Halloween bag tags, which could be used at any time of year and added one of those to my cart as well.
These are great for kids who might be going to daycare or school so their candy doesn't get mixed up with others. But, as I said, I would use these all year round on their regular school bags. The little devil is easy to pick out so the teachers will know exactly whose bag they have (my little devil's bag!). These are $6.95.
Once I added both to my cart with the coupon, instead of seeing $10 come off, I saw $16.95, which was a very pleasant surprise.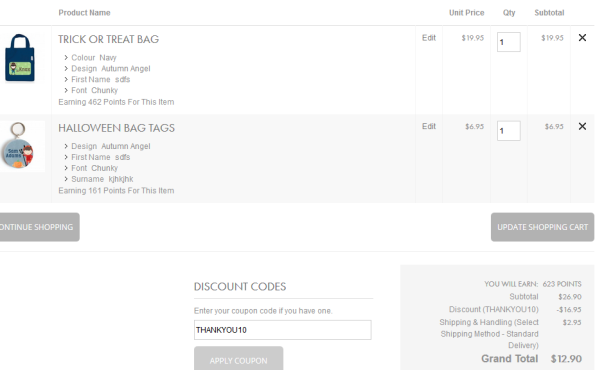 Shipping is also very reasonable at only $2.95 for these two items.
I also realized that for every item I added to my cart, another $10 discount would come off my purchase. Another item I saw that I loved was this personalized family activity planner. This is a perfect gift idea for any family who needs to stay organized and I got one for myself! Regularly $29.95, when I added it to my cart with the loot bags and bag tags, the discount came to $26.95. That means I'll get the planner almost free when I buy the trick or treat bag and bag tags! Note though, that the shipping fees change depending on what you add to your cart.
If there is anything that you see that you like at Stuck on You, now is the time to get it. Play around with your cart and see what kind of discount you can get! Let me know in the comments below!