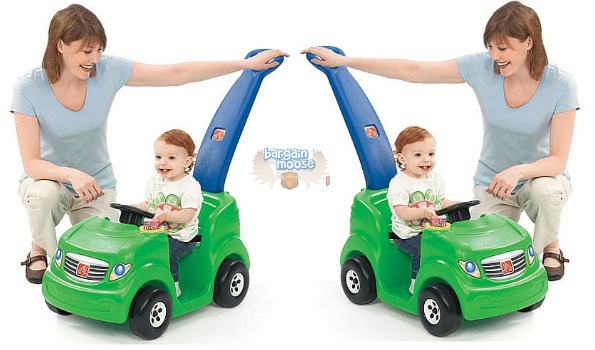 The Step 2 Push Around Sport Buggy just went on sale @ Toys R Us Canada. This play car that has a handle for parents to push from behind was $70, but is now only $39.97. $10 off shipping is also included with this deal.
The other day I was pulling up next to my home in my car, and two robins swooped over top of me. I was so happy as it has been months since I have seen any kind of small bird. To see their bright red plumage reminded me that spring is actually coming. In the meantime, the weather has been a little warmer so I have been bundling up the kid and getting her as much fresh air as our fingers and toes can take.
With spring around the corner, you may be starting to think about your own outdoor toys also. If you have a little one around, this Step 2 Push Around Sport Buggy may be just what you need. This cute little toy car is perfect for a trip to the park, a walk around the neighborhood, a trip to the local corner store and more. Similar to the coveted car carts in the grocery store, the child can pretend they are driving a real car just their size. This car also includes a cupholder for a water bottle or a little snack.
I checked out the prices elsewhere. The green version of this car is hard to find, but there is a similar red version. I found the red version on Amazon.ca for $74.99. Bed Bath and Beyond has a red or pink version of this car for $69.99.
Reviewers seem to love this little car. Here is one happy buyer's opinion.
The deal includes $10 off shipping. When I popped this into my cart, shipping is estimated at  $15 total. With the discount, that makes shipping about $5. Make sure to check your own shipping price as it can vary depending on your location, but $10 off will give you a nice start. You can also ship to store free if you want to bypass shipping fees altogether.
At a final price of $39.97, your cart is not far off from $40 minimum to use a Toys R US coupon code. If you pop one smaller item into your cart, you can use the code CINEPLEXHOLIDAY and receive an extra $10 off your cart. I threw in some Crayola Scentsations Washable Broad Tip Markersthat were $5.40 but are on sale for $4.37 and was able to use the code.
Grab this great little car now before the stock is all gone. You will thank me this spring when your kid is tired walking home from the park.
(Expiry: 5th March 2015)