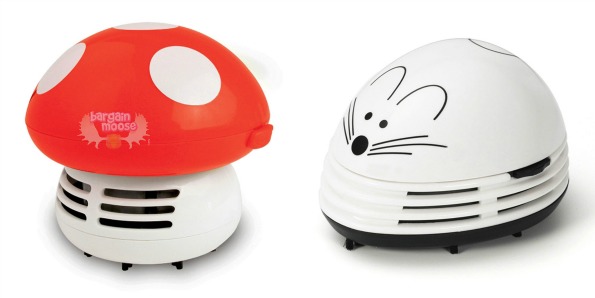 This weekend only, Starfrit has a coupon code that will give you 50% off everything on the site. I found the cutest and most useful item ever at Starfrit! It is called a table cleaner and it is like a little vacuum for your table! Regularly $11.99, it is on sale for $6 once you enter the coupon code OCT50.
I NEED this! My table is always covered in crumbs, rice krispies and various other little messes. While it is my children's job to clean off the table after meals, they don't do the best job. This little guy would probably do so much a better job and the best part is that I can give it to the kids as a gift! This would make a perfect stocking stuffer as it is small, cute and handy.
There are different styles of this table cleaner, all pretty adorable. There is a mouse, one with wordswritten on it, a ladybug (out of stock) and a mushroom.
There is one review on the site that says:
Best thing ever....everyone should have one.

Looking around, I see that these items are out of stock at a few places. Costco has a three-pack of the mushrooms for $27.99 and if you bought three mushrooms at Starfrit, you'd only pay $18. Amazon sells the mushrooms for around $11. The places where they were sold out sold them for anywhere from $10 to $20. Obviously, the best price is at Starfrit.
Starfrit does offer free shipping, but you need to get your total up to $75. Since everything on the site is now 50% off, this is your chance to pick up some other fun gadgets or some Lock 'n Lock containers.
A crazy fabulous deal that you could add to your cart are these Lock & Lock rectangular containers that were $7.99 and on sale for $2.99. You'll get them for $1.49 with coupon code added.
I'm also definitely partial to this collapsible salad spinner, as I have one myself. Wash your lettuce then spin it and it gets completely dry. I then use the bowl (after rinsed out) as my salad bowl. After using, it collapses down small to fit even in kitchens with little storage. Regularly $19.99, you'll only pay $9.99 this weekend.
(Expiry: 12th October 2015)