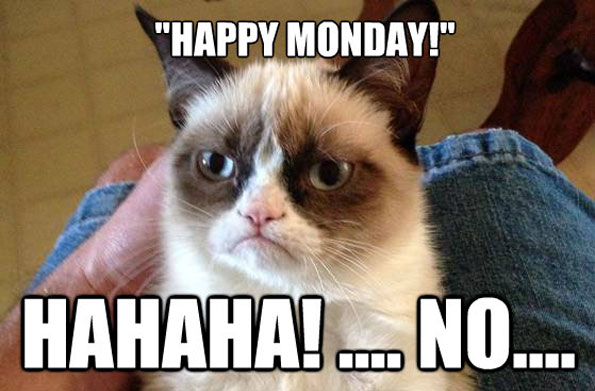 Mondays don't have to be depressing, especially not when you can you take advantage of a wonderful Starbucks promotion! Keep reading to find out exactly how you can save every Monday from 2-5pm at Starbucks until the end of the month.
Every Monday for the rest of the month of March, you can take advantage of a different promotion. The only catch is that you must be a member of My Starbucks Rewards but luckily, membership is absolutely free. Plus, by joining, you will be enrolled to receive free drink and food rewards as the more Starbucks products you buy, the more stars you receive, which you can then redeem for more rewards.
On March 9th, 16th, 23rd and 30th, you can take advantage of the following promos: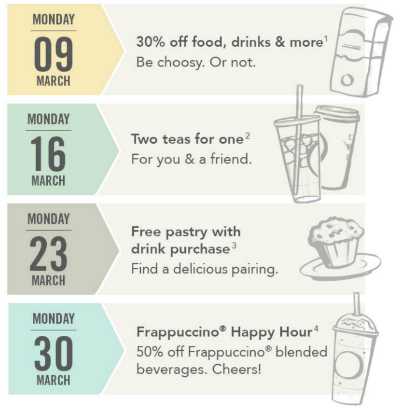 Don't forget that you can only take advantage of these Monday promotions for 2-5pm. I suggest you save the picture to your phone or desktop as a quick reference.
If you're an avid tea drinker but only have coffee-drinking friends, then you could try a little trick that may or may not work. Order a cup of tea for yourself as you  normally would and ask the baristas to keep the second teabag on the side. Then just take the teabag home and enjoy a free tea later that day! This has more potential for working if you tell them that your "friend" doesn't like her/his tea very strong. Hehe!
Personally, I'm the most excited for the free pastry offer. I have been on a weight loss journey but nothing beats the taste of one of Starbucks' muffins on a cold Monday morning while sipping a delicious cup of Caramel Macchiato.
Of course, the Frappucino 50% offer is also a great one, especially since it's scheduled for the last Monday of the month, which means that there is a chance that it won't be as cold anymore -- woohoo, something to look forward to!
Happy Monday!
(Image Credit: QuickMeme.com)
(Expiry: 30th March 2015)