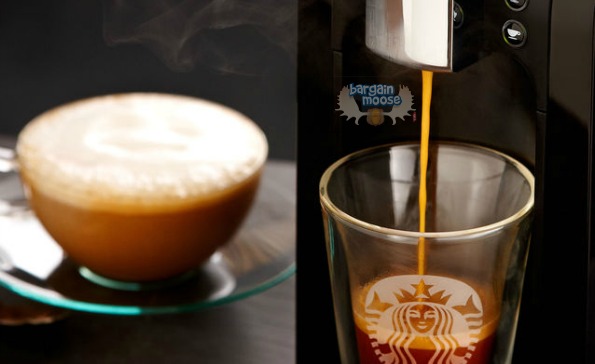 Attention all coffee lovers! If you are looking for a new machine, look no further than the up to 40% off Black Friday/Cyber Monday on Verismo machines at Starbucks Store.
While not all of the machines are on sale at 40% off, one of note is the Verismo 580 brewer. You can get either the black or the silver for only $69, with a regular price of $119.
Similar to the other single-serve brewers, you can get your favourite Starbucks coffee in one cup with a touch of a button. The deal includes a box of pods as well.
The machine itself has a 1-litre water tank and room to store 10 pods.
Shopping around, I found that this is a fantastic deal as the other online Canadian stores sell it for varying prices, quite a bit above $69. Amazon is the cheapest, sold from a secondary seller for $79.98, with one left in stock and another $5.54 in shipping. Starbucks is including shipping, so you don't have to worry about that pesky fee.
Other than that, Sears has it on sale for $99.99 and Costco has it for $109, but it does include some pods. Even still, the Starbucks Store deal is the best.
This machine has four stars out of five from nine reviews.
I purchased my first one about three years ago, and it is still going strong. Coffee flavour is great, consistent and since the option to purchase 96 portions at a time for less $ per serving, more cost effective. I purchased a second one for my office, but decided to give it to my son, who has coveted mine for several years. It is important to read the instructions, as these are not intuitive machines, but not difficult to operate if you read the instructions.
If you also wanted to stock up on pods, these are 20% off for Black Friday/Cyber Monday, with a 12-count box coming in at about $9.49, regularly $12.95. Those make great stocking stuffers! The flavours are endless.
If you already have your machine and just want to get the deal on the pods, spend $65 to get yourself free shipping.
(Expiry: 1st December 2014)