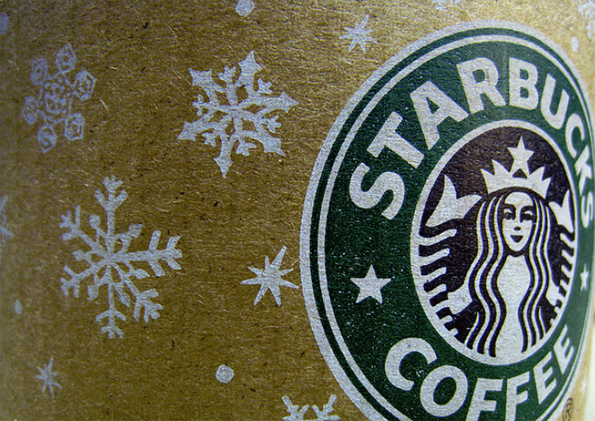 *** Bump - starts TODAY ***
So, last week I told you guys about the Second Cup Holiday Beverage promotion, but I would venture to guess that you prefer Starbucks. Am I right? Well I have some excellent news if that is the case. From November 12th through November 15th you can enjoy an excellent discount on your favourite Holiday Beverage from Starbucks Canada. You can buy one, get one free on all Holiday Beverages between 2 pm and 5 pm during the span of this promotion - and I am excited!
So it looks like the competitors like Starbucks, Second Cup etc all release new Holiday Beverages every year. While that is exciting, I seem to grow attached to my drink preferences and I get sad when my favourites don't return. This year the Starbucks Holiday Beverages include Chestnut Praline Latte, Peppermint Mocha, and Caramel Brule Latte. The great thing is you  can BOGO free between November 12th and 15th if you go between 2pm and 5pm. Delicious! I pretty much enjoy every beverage from Starbucks, but their drinks can be a little costly. That is why I enjoy promotions like this so much! It really does offset that they charge more than Tim Hortons, plus the Starbucks beverages are higher quality. How do you complain about that?
Second Cup's promotion is only valid on Wednesdays, so in a sense this Starbucks Canada offer is a bit better. It runs from November 12th through November 15th. So it is not only on Wednesdays, but the hours are the same as the Second Cup promotion. So you will need to order your Holiday Beverages from Starbucks between 2PM and 5PM to enjoy the buy one, get one free offer. Starbucks Rewards Members can start enjoying the promotion a day early, which is definitely one perk of being a member.
I am definitely glad that I m a Starbucks Rewards member. I get exclusive offers all the time in my email inbox, and more and more Starbucks locations seem to be popping up so I just keep earning stores. Plus, Tim Hortons always screws my order up!
Moosers, what is your favourite Holiday Beverage from Starbucks Canada?
(Expiry: 15th November 2015 & Image Credit: Frances)