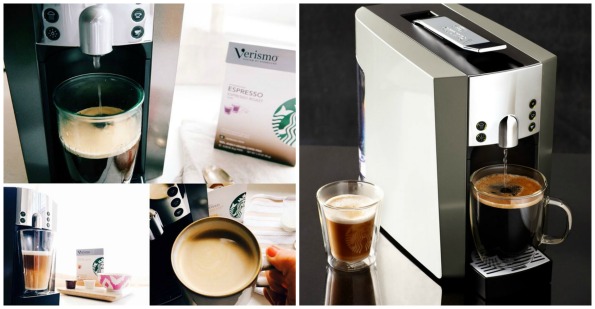 I love Starbucks. It would be even nicer to wake up and brew myself a beautiful cup of Starbucks coffee though. If you feel the same, then you may want to snag this Verismo 600 Brewer in Silver during the Starbucks Black Fridayevent. While supplies last, you can pay $79 instead of $149 to be able to create Starbucks beverages at the touch of a button. Plus you will also get a free box of Verismo Pods. All of this will be shipped to you for completely free!
The Black Friday section on Starbucks.ca has a few other Black Friday discounts as well. While the discounts are not smoking hot over there, it is always good to save a few bucks on items you would normally buy for full price.  But let's get back to this Verismo 600 Brewer! With this Starbucks brewer you will be able to replicate their lattes, espresso, brewed coffee and such right in the comfort of your very own home. I would consider this a superb deal. You can get the Verismo 600 Brewer in silver for just $79 at Starbucks.ca, but Bed Bath & Beyond has the same brewer available in stores only for double the price.
This brewer is a single cup brewing system that used the Starbucks exclusive Verismo pods. It has a modern design and is very easy to use. With the click of a button you will have your beverage ready in a matter of 15 seconds. The tray is also adjustable to fit your super-size glasses if need be. If you have not used the machine again after 15 minutes it will automatically shut off to conserve energy. I have a Keurig machine and it sure is tedious having to remove the K-Cup after every beverage - especially when I am making several different drinks for guests. The Verismo Brewer is one step up and will remove the used pods and put it into a storage for you to dump later. Convenience is priceless!
Starbucks Canada is also throwing in one free box of Verismo Pods with every purchase of a Verismo Brewer. The box added to my cart was the Espresso Roast Espresso Verismo Pods which were valued at $11.95. Shipping was also thrown in for free - which would have normally cost $7.95. So in total your paying $79 for a bundle worth $168.90 once shipping is included. I love free shipping!
(Expiry: Unknown)