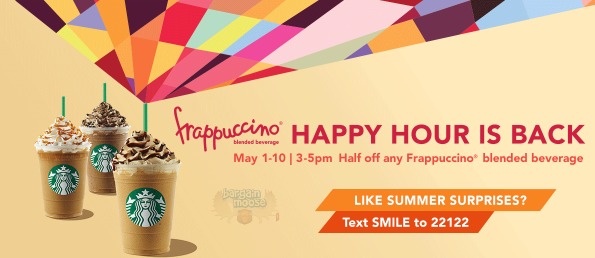 Who is in the mood for a delicious frappuccino right now?  If you are, I suggest heading over to Starbucks to get one because they are all on sale.  Save 50% on all frappuccinos until May 10th at your local Starbucks.
You will be able to save 50% on any Starbucks frappuccino beverage daily from 3pm until 5pm only.  This is the perfect time to go and grab one, because that is exactly the time most people get their afternoon lull and need a sugar pick me up.
In total, there are 28 different frappuccino beverages to choose from on the Starbucks menu, and all of them will be included in this deal.  Needless to say, you will not have a lack of choices as to what flavour to grab.
If you are looking to try something new, check out the new summer flavour.  The Caffe Espresso Frappuccino blended beverage has Espresso-infused whipped cream and Italian Roast Coffee Drizzle—it's sure to set your summer off in the right direction.
If you are a Starbucks Reward member, you will get an extra perk.  From May 6th until May 10th, you will get this deal for an additional hour.  As long as you show your rewards card, you can save the 50% off until 6pm instead of the regular 5pm deadline for those days.
(Expiry: 10th May 2014)