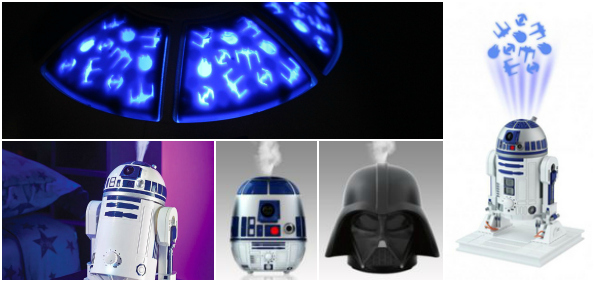 Star Wars comes out tonight: ARE YOU READY?! I am going to be avoiding the crowds and going to see it in a few weeks, but that is hardly an option for ardent fans. If you are a huge Star Wars fan, then pick up this Star Wars R2D2 650 ml Humidifier with Nightlight on sale from $69.99 down to $59.49. After you use coupon code941612495 - for an extra $10 off $25 - this humidifier comes down to $49.49. As your order is just over $49, you will also receive free shipping.
This is a small humidifier - 650ml - but it is SO COOL. First of all, the humidifier is large enough to get you through the night but you will probably have to refill it each morning if you are using it nightly. Essentially, refill more often. However, what this unit lacks in size it makes up for in features: a nightlight. The R2-D2 humidifier projects Star Wars ships into the night. Wicked awesome, eh?
This is a small unit that is designed for around 120 square feet. That is about a 10' by 12' room. You can adjust the humidifier to output anywhere from 50ml/hr to 150ml/hr. At 50ml/hr, this unit will run 13 hours. At the maximum, this unit will run just over four hours.
This cool little unit has a few additional features. First, it has anti-microbial technology and fights mold and mildew. This was never a problem in Edmonton, but it would be in Nanaimo. The unit is also super quiet and works well for traveling because it is compact. I used to need a humidifier all the time when I was sick as a child - they were very soothing.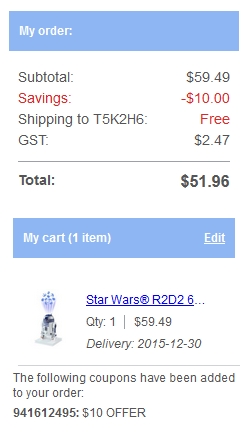 I also wanted to mention a couple other humidifiers we have mentioned before - but now at a lower price. This Star Wars R2D2 1 Gallon Humidifier was $69.99, is on sale for $59.49 and comes down to $49.49 after coupon with free shipping. It is the largest humidifier at one gallon (and it is my favourite).
Next, the Star Wars Darth Vader
2 Litre Humidifier is a mid-size range (half a gallon) that looks deadly cool. It is also on sale from $69.99 down to $49.49 after coupon code when ordered separately.
Pick up one of these awesome humidifiers before they sell out!
(Expiry: 20th December 2015)