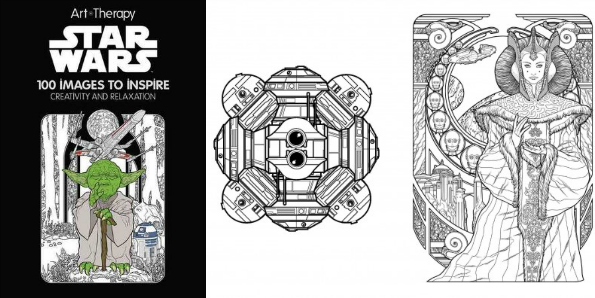 Chapters Indigo Canada has discounted the Star Wars: 100 Images To Inspire Creativity And Relaxation adult colouring book from $17.50 down to $12.63. This is not only a great price for this Star Wars adult colouring book, the colouring book receive free shipping with no minimum required right now.
This colouring book is full of awesome drawings inspired by Star Wars. Sometimes you get to colour in scenes, sometimes you get to colour in characters. The artist also creates mandalas and other geometric patterns using items from the movie - like droids. You can see above that there is a R2-D2 mandala in the book that will be fun to colour. 
So far people are pretty happy with this colouring book. The pages are thick and of good quality. They are not quite thick enough that markers won't bleed through so you will want to use coloured pencils. The pages have images on both sides so bleed through would matter.
This is a hardcover colouring book, which is the only kind I collect. With a hardcover book, you can colour wherever you want as the cover acts as the flat surface. The book's pages and cover open to 'lay flat'. This allows you to get at pieces of the drawing around the spine. Personally, I would take a hardcover book with lay-flat pages over a softcover colouring book.
With 100 images to colour, this book will provide you endless hours of fun. I calculated it out and a 100 image book would last just over three months if you did one picture a day. I am currently doing about two pictures a week so - with 52 weeks in a year - it will take me just under a year to finish my 100 image colouring book. For less than $13, that is a pretty awesome form of entertainment.
Now, I know this is the same price at Amazon BUT it is out of stock at Amazon Canada with no estimated time for restock. If you want it for Christmas, buying an out of stock product is just out of the question. Also, Amazon has that $25 free shipping minimum that Chapters Canada is waving right now.
Overall, this is a good buy and a fantastic Christmas gift.
(Expiry: Unknown)