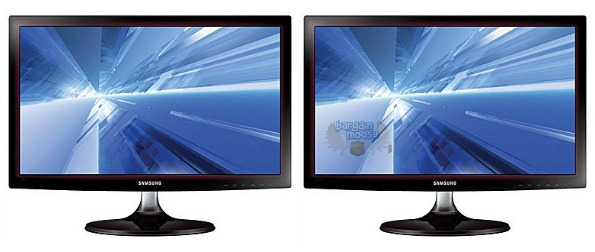 Staples Canada is selling the Samsung LS22D390HS/ZC 21.5" LED Monitor for $169.99 right now. However, buy two and your second one will only cost $30, which means you get two monitors for just $199.99 (value of $339.98).
I quickly price compared this monitor with Canadian competitors:
$169.99 @ Newegg Canada
$149.99 @ Tiger Direct Canada
$150.60 @ Best Direct Canada
That price is per monitor. With this deal, you are paying a nominal amount more for a second monitor. I am stoked about this deal!
The monitor has a 21.5" display with a 1920 x 1080 resolution. Enjoy an aspect ratio of 16:9 with a quick 5ms response time. The monitor has a slim form that features both VGA and HDMI ports so you can connect your laptop or your smartphone for a more productive environment. No need to stare at a small screen when you have a 21.5" monitor or two you can use. With the right software, you can spread your screen across both the monitors or use them separately for opening different applications.
There are four reviews of this monitor with a solid four out of five star rating overall. Here is what one reviewer had to say:
Easy to set up, excellent colours, resolution and clarity. When used on HDMI be sure to reset sound settings (after installing driver) as monitor does not have built-in speakers. Great price for use at home.
Another reviewer agreed with his assessment but did find the lack of speakers a pain:
I bought this monitor to hook up a ps3 to it, works great! it has many different settings and it takes awhile to understand all of them. If your thinking of buying this make sure you read the manual that comes with it, its very helpful. This monitor is a pain to use to game because it has no speakers, you can hook it up to your headphones or speakers. (with another accessory) Other wise this monitor is a great and I would recommend it to anyone who wants a monitor for gaming.
I have always found built in monitor speakers to be pretty crap anyway so I would recommend buying some external speakers (they run cheap). You can usually find some great sets on used sites like Kijiji or Craigslist as well. With this offer of two monitors for $200, the price really cannot be beat for a brand name monitor of this size. If you do not need two monitors, then place your purchase with a friend and split the savings. Quantities are limited.
Receive free shipping as this deal costs over $45.
(Expiry: 11th November 2014)