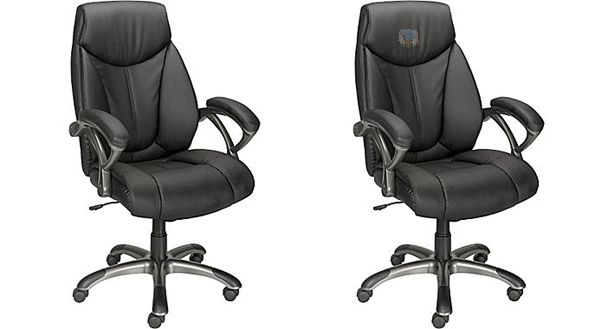 Hey there, Bargainmoosers - Staples is currently having a pretty sweet sale on their High Back Bonded Manager Chair until October the 14th, which should entice any one with a home office that's looking for a new chair. The regular price of this Staples High Back Bonded Manager Chair is $223.34, but you can now get it for $123.34! You're saving $100 with this deal. Plus, you'll also qualify for free shipping with your order!
Featuring comfy padded arm rests, a seat tilt and lock control, and bonded leather on the seat, back, and arms of the chair, this Staples High Back Bonded Manager Chair looks like it is a great choice for those that want the perfect chair for their office.
Since I work from my home office on a regular basis, I know how important comfort is - especially when I need to log in a high number of hours during each work day. I now have a similar manager chair in my home office, and the difference is incredible - I previously used older office chairs, and they just didn't cut it after some time. I would feel incredibly sore, and it made it tougher for me to have the desire to put in those extra hours of freelance work. Thankfully, I can now work while staying comfortable with my manager chair.
If you were to buy a similar manager chair from Amazon, it would cost you $242.27. I've included a great review of this Staples High Back Bonded Manager Chair from a satisfied Staples customer below:
Purchased this chair for my graduate studies and so far it's fantastic (and I spend a lot of time sitting in it!!). Very comfortable and also has great support. It was a bit more firm than I had expected but I actually like that about it. The padded arm rests are also great. It moves up and down smoothly and has an adjustable tilting function. It was fairly easy to put together with simple instructions. Very nice looking and even appears like real leather! Nothing I would complain about. Would definitely recommend to others.
I hope you're all enjoying your weekend, my fellow Bargainmoosers!
(Expiry: 14th October 2014)