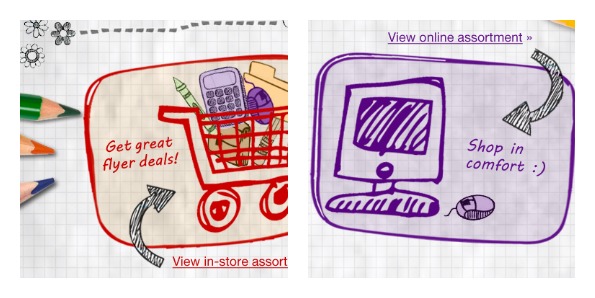 Staples Canada has an awesome deal on right now, in-store only.  Spend $50 or more before taxes,  and receive a $10 gift card for Sears Canada.
I was shopping in Staples on Friday and I was blown away by the sales on school and office items.  Not only did the sales prices surprise me, when I went to the cash to pay, I was informed that I was eligible to receive a $10 gift card for Sears, because my purchase was over $50.  I very quickly informed everyone I knew.
I picked up some of the 80 page one-subject coil notebooks, that were only $0.15 each.  I also got some of the Canada exercise books, 4 pack - 32 pages each,  that were $0.99 and now in-store only $0.25, limit of 6 per family.
The sales on pens and pencils was amazing.  I picked up the package of comfort mate ballpoint pens for $3.98, 50% off.   There was also a great deal for Noris club pencil crayons, $5.95 for a pack of 24 and that included $2 off a 10 pack of economy friendly Wopex pencils when bought in store.  They even had their Sharpie permanent markers-5 pack on sale for $2.49, that's 50% off regular price.
The reason that I actually went in was to look at the M310 wireless mouse on sale for $17.43.  They were all quite nice and I ended up getting the crimson ribbon.  They did have a few different designs and colours, but that suited me best.
I can't list everything they have on sale, but I can tell you that it's worth going and on top of the savings, a $10 gift card for further savings at Sears Canada.
(Expiry: 8th September 2012 or while supplies last)