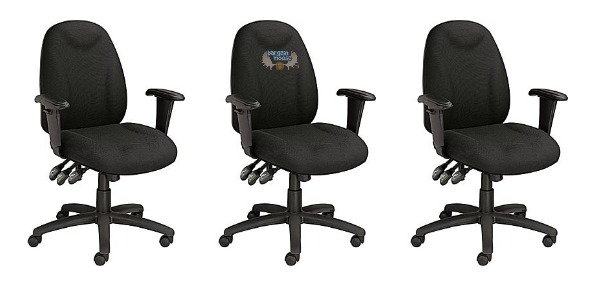 Look for a good multi-functional chair? Look no further than Staples and pay less than $100 ($97.46 to be exact). The regular price for this chair is $194.92 so you are saving almost half off, which makes it an excellent deal.
I could totally use a new chair for my desk. The one I use now hurts my back and I've been meaning to change it for eons. But, I'm too busy sitting in this crappy chair doing work to actually order a chair. This might be the time! Professional-looking, apparently this chair was also made for long periods of time sitting at your desk.
If you are a sloppy eater like me, and often eat at your desk like I do, your chair is probably covered in stains, like mine. Well, this chair will eliminate those embarrassing tell-tale stains with its stain-resistant fabric. Even with heavy use, the chair will look new. It has a 15-year warranty, so you know you can't do anything bad to this chair without getting away with it. It will look and work like new for years to come.
Multi-function means the chair will get your coffee, answer your emails and feed your kids. Ok, it unfortunately won't do that, but it does have a back tilt and lock, contoured back for lumbar support, seat height adjustment and dual-wheel casters on a five-pointed-star base, which means you can do all the spins you like when people are driving you nuts.
This chair will also ship to you for free, so there's another nice bonus.
(Expiry: 3rd June 2014)