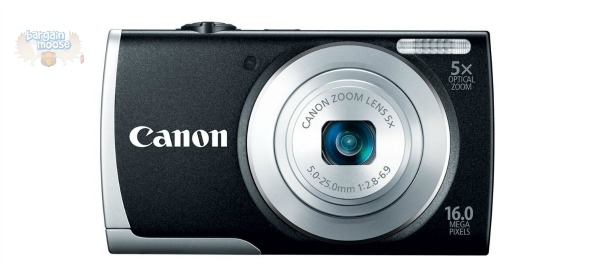 Staples Canada has this Canon PowerShot A2600 digital camera on sale from $119 .26 down to $89.26.
Everywhere else we have looked for this camera it has been $109 or higher, including at Amazon.ca. This camera is 16MP with a 5x optical zoom lens so you can get really up close. It has a built in 28mm wide-angle lens. The feature people will most appreciate is probably the Smart AUTO intelligent system: it automatically selects the right camera settings based on thirty-two predefined shooting situations. At less than $90, this camera makes a great gift idea for someone special!
There are a bunch of reviews on Amazon.com for the camera and here is one that sums up the general good reviews:
This is neither too complex nor oversimplified. It has all the feature I wanted. I get great pictures, easy to get from the camera to my computer. It is small, yet not tiny, very light weight. I really do love it. Great value for the money.
Other reviewers mentioned really good battery life as a prominent feature as well.
As this camera costs over $45, it will ship for free.
(Expiry: 19th November 2013)