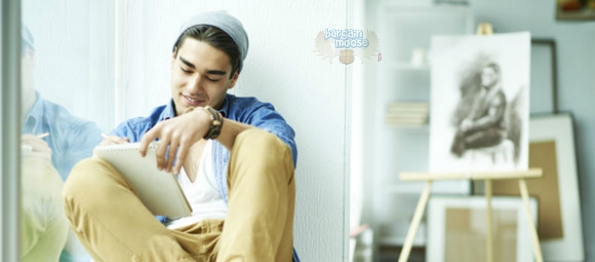 Staples Canada is back with another great Visa Checkout Offer. Use your Visa Checkout to pay at Staples Canada, and you will receive $20 off $70. While there are a few exclusions to this offer, most things are fair game including computers, headphones, tablets, back to school supplies, and more.
I assume that you have signed up for Visa Checkout by now as you only need to sign up for Visa Checkout once - on any website - and then you can use it at a variety of stores that have the Visa Checkout button. It is one way to keep your credit card more secure.
While almost all electronics, stationery, office supplies, furniture, and more are subject to this promotion, there are a few exclusions you should familiarize yourself with. Most notably, this promotion excludes all downloadable software, services, and all Bose brand products as well. You can check out the link above for further details.
The Samsung Galaxy Tab 3 Lite Tablet is a good buy for anyone wanting a discount on this tablet. Currently, the tablet is on sale from $169.92 down to $129.92. When you purchase it and checkout with Visa Checkout, the tablet will cost just $109.92. Given that Walmart sells the tablet for $128 and Best Buy sells the tablet for $129.99, this is a good deal. Samsung is a good brand name. Therefore, picking up one of their tablets for just over $100 is pretty nice.
If you are looking for a new home-phone setup then this Vtech CS6929-4 4-Handset Cordless Phone with Digital Answering System is a hot ticket item. Originally $99.99, the four-handset with answering system is on sale for $79.99. With Visa Checkout, you are going to pay just $59.99. The exact same set (same model number) retails for $139.99 at Best Buy Canada! Talk about scoring a hot deal if you use a home phone or need land-line phones for your office or home-based business.
If course, your order can be made up of smaller items as well. For back to school shopping, these Crayola Coloured Pencils, 24/Pack are on sale from $4.65 down to $1.96.
Receive free shipping on any size order to your local store. In addition, receive free shipping on orders of $45 or more. As your order needs to be over $70 to receive $20 off, you will be eligible for free shipping.
(Expiry: 18th August 2015)