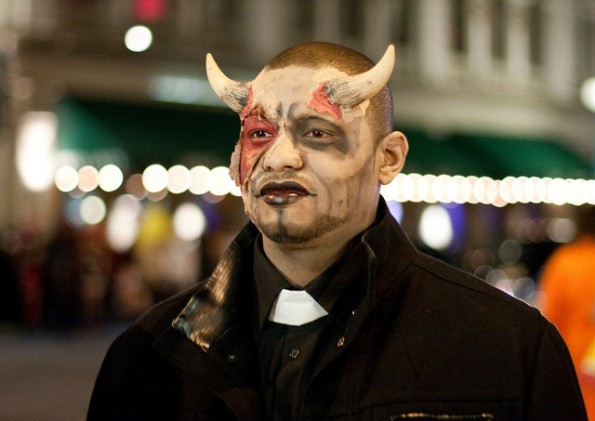 Stag Shop Canada is offering 30% off site wide. No coupon code is necessary. The discount appears to already be taken off the products.
This coupon excludes all restricted items. Now, you may be wondering (as I did) what could be 'restricted' on an adult website. You can click through the link here to see the list of brands. Notably, all clearance items are excluded from the extra 30% off.
Honestly, this is a great opportunity to pick up your Halloween costume at a discount. Stag Shop Canada has a large selection of costumes for men and women that qualify for the extra 30% off. A full costume is only around $10 so this is a great place to shop if you are on a budget.
The Coquette - Medieval Guy is a two-piece costume made up of a short and a toy mace, you supply the pants. The shirt is actually a fishnet hoodie with attached wet look vest, arm shields, and chain detail for one hot medieval night (haha). Originally $34.99, it is on sale for $10.49.
Play a Surgeon with this four-piece costume for just $10.49 (was $25.99). The outfit comes complete with both top and bottom scrubs, a facemask, and a skullcap. Stethoscope is not included so 'borrow' either one from your doctor's office or pick one up separately.
Personally, I am totally into the Gangster babe by Coquette. It is a costume I could actually see myself wearing more than just on Halloween. You get the top, the skirt, and fishnet stockings. Hat and toy gun are not included. While the toy gun is not necessary, I would most certainly pick up a hat. Try some old vintage stores as they always have good hats running around that no one wants anymore.  Originally $29.99, the costume is now $10.49.
If you are just waiting to release your inner temptress, then select this three-piece Devilicious costume in red. It has everything you need with a wet look jumper (attached wings and tail), pitchfork, and horns. Originally $29.99, the costume is also now $10.49.
Buy costumes for you and for your mate during this offer. With these prices, you can buy a different costume for each party you are attending. I find costumes have a decent resale value on local forums and Facebook groups, so consider that for next year when you want to change up.
Stag Shop offers free shipping on orders of $49 or more.
Image Credit: Nathan Rupert
(Expiry: 13th October 2014)