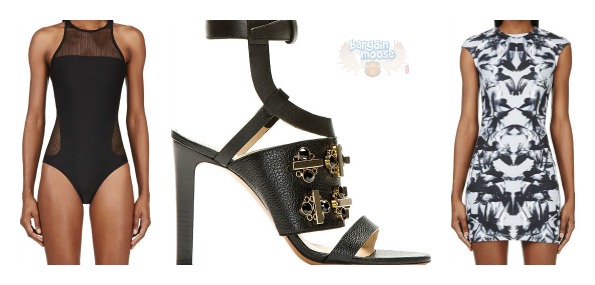 Ssense Canada is hosting one of their semi-annual large sales with now up to 70% off designer clothing, handbags, shoes, accessories, and more.
Ssense is Canadian so you do not have to worry about the usual things you would have to if you were bringing up items from across the border. I rarely blog about them, frankly, because designer goods are expensive and who can afford them unless they are steeply discounted? Well, 70% off is a pretty awesome discount so I thought I would our Moosers a line or two about the sale and fish out some of my favourite deals.
If you know me then you know I love anything with the word Queen on it. Especially if it is preceded by "Alexander Mc-". It is actually funny, because I am listening to I Want It All by Queen as I wrote this so I felt I needed to clarify. MCQ by Alexander McQueen is his more affordable label and I am eying up the Grey Contoured Bird Print Dress that was $575 and is now discounted to $172. I wish I were a size medium because I would snatch that dress up in a second.
I also have a soft spot for Cloe because they make some sweet stuff. However, they tend to be way out of my price range so I own nothing from the designer. These Black Leather Hardware & Crystal Heels are a phenomenal deal! Originally $1,800, this pair of funky shoes is discounted to $540. That is still rather out of my price range right now, but if i saved up my money for a few months, then I wouldn't mind spending it on one big purchase like this, as I know I would be buying quality.
T by Alexander Wang is also one of the more affordable brands. He specializes in modern silhouettes while using primarily solid colours. I like his work because my body is not a bulletin board for advertisers: designers or otherwise. This Black Mesh Racerback One Piece Swimsuit is totally my style but not in stock in my size (or I would be buying it despite already owning three swimsuits). Originally $410, it is now on sale for $123.
All prices are in Canadian. Ssense offers free shipping on orders of $100 or more. Under $100, shipping is only $5 to Quebec and Ontario or $8 to other provinces across Canada.
(Expiry: unknown)