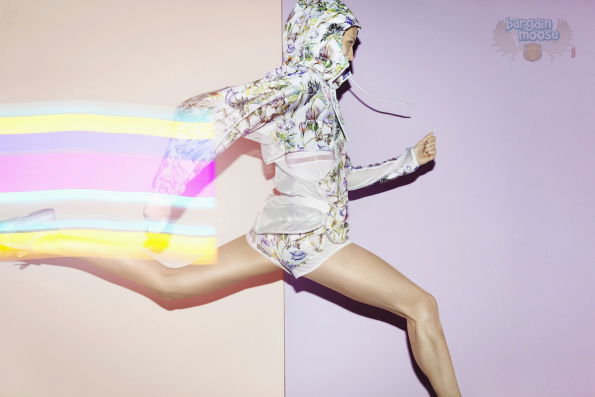 Sporting Life Canada is one of the hidden gems of the athletic and outdoorsy gear websites. They carry a fanfare of awesome brands including Patagonia, North Face, Adidas, Under Armour, and more. Right now, they are offering up to 80% off one of my favourite brands - the designer collaboration between Stella McCartney and Adidas.
I find most athletic clothing rather boring - with the odd exceptions, including MICHI NY and some Lululemon gear.  Adidas by Stella McCartney is another exception to the boring status quo with fun prints, exciting designs, and great colours. Sizing is limited.
For our wonderful Mooser runners, the Women's Run Performance Short is on sale from $70 down to $19.99. Navy and grey colours are in stock with sizes medium and large still available. I like this short because it looks a bit 'different'. It has a two-layer appearance with the inner layer a sheer mesh and the slightly shorter outer layer opaque. Because the outer layer is shorter than the inner layer, it gives a peak at the mesh without exposing too much.
Pair this short with the Women's Run T-Shirt, which is available in a medium. Originally $110, the shirt is on sale for just $29.99. This is a loose-fitting tee made with climaproof fabric for protection from wind, rain, and snow. Of course, the rest of your arms will need to worry about these elements, as they are not protected.
This Adidas By Stella Mccartney Women's Vinyl Swim Jacket is one of my favourite deals. Originally $250, the jacket is now on sale for $49.99. That is roughly 80% off the original price. While a 'swim jacket' seems a bit of a stretch, this is a vinyl jacket that dries quickly and features mesh details and a large hood. The jacket is see-through so you can view the swimsuit underneath. I have to say, I like this idea. I always put my swimsuit on before I hit the pool and I prefer to shower at home. I could wear this jacket to and from the pool - over my swimsuit.
For something a bit different, the Women's Yoga Seamless One-Piece is on sale from $110 down to $39.99. The suit fits a bit large so you will want to size down.
There are plenty of other Adidas By Stella McCartney items to choose from as well. Receive free shipping on $99 or more. Under that minimum, shipping is a flat $10.
(Expiry: Unknown)