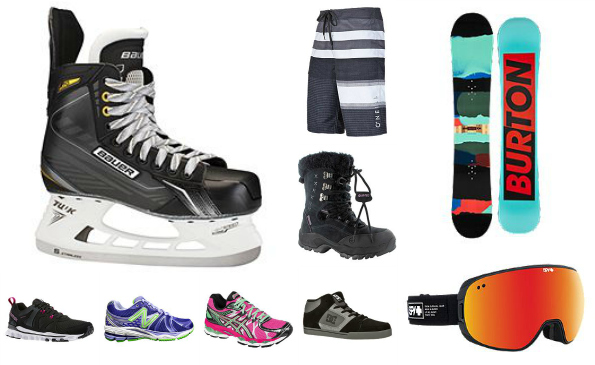 SportChek Canada has launched their Boxing Day Sale with up to 60% off select products and free shipping with no minimum order.
There are a few things right at that 60% off mark for the best savings. The New Balance Studio Cozy Tunic Women's Long Sleeve Pullover is 60% off - originally $79.99; you will pay just $31.99. All four colours are in sale with various sizes in stock. This would be my pick of the entire sale actually - it is a nice top at an amazing price with great size and colour selection. You can also get free shipping on just one top.
I have been looking for new runners and this just might be the sale that hooks me. These Reebok Hexaffect Run 2.0 Women's Running Shoes are on sale from $109.99 down to $43.99. There are six sizes still in stock so there is a good chance you can grab a pair. These Reebok Hexaffect Run 2.0 Men's Running Shoes - the men's version - were $109.99 and are now $43.99. These shoes are designed for running. Unfortunately, there are only a couple sizes left in stock.
Men will have better luck finding their size in theseKeen Alamosa Low WP Men's Multi-Sport Shoes. Originally $149.99, they are now on sale for $59.99. Keen makes pretty great shoes and these would be perfect for every day fun with the kids as well as hiking into the woods. The Keen Alamosa Low Waterproof Men's Multi-Sport Shoesis another option. I like the waterproof feature - your feet stay dry while you cross streams or accidentally step in a puddle. Women can wear the Keen Alamosa Waterproof Women's Multi-Sport Shoes. Stock on both pairs is severely limited.
The Spy Dirk Sunglasses - Matte Black Frame w/ Happy Bronze were $170 and are now $64.99. This is a nice price for a new set of sunglasses.
The majority of the sale is more around 50% off. This Adidas Conext15 Competition Soccer Ball Size 5 - White/Flash was $59.99 and is now $29.99. Other equipment includes thisC.C.M. RBZ 110 Stick - Grip - P45 - Flex: 85on sale from $79.99 down to $39.99.
For inexpensive deals- pick up the Diadora Basic Training Tech Men's Short Sleeve Tee on sale from $19.99 down to $9.99. The adidas Ultimate Men's Short Sleeve Tee is also on sale from $27.99 down to $13.99. These are great basics for restocking your wardrobe.
(Expiry: 29th December 2015 @ 1:59 AM ET)