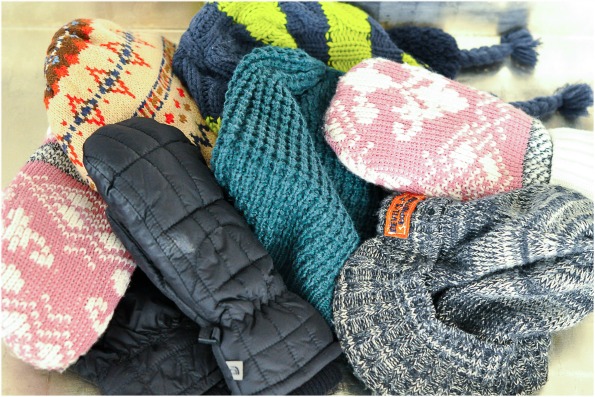 SportChek Canada has a few great deals on mitts right now. They are offering up to 50% off select mitts, toques, and scarves and then all winter accessories are currently buy one get one 50% off. You also receive free shipping on your entire order (does not ship to Quebec).
First, I wanted to feature one serious mitt (or pair of mitts). The Kombi Gate Keeper Women's Mitt is the only set of mitts you will ever need for keeping warm in the depths of winter. They even have a Short fitted cuff for keeping snow out of your mitts. originally $69.99, they are now on sale for $34.99. Two sets will only cost you $52.48 if you are in the market.
For those on a budget, you can pick up a set of winter accessories on a budget as well. This McKinley Opal Women's Hat and this McKinley Ditto Women's Hat are both 40% off - originally $20 they are now reduced to $11.99 each. Pair one of these hats with the McKinley Daisy Women's Mitt on sale from $14.99 down to $8.99. The daisy matches one of the colours of the opal hat, and the McKinley Ditto Women's Mitt matches the Ditto hat above. Originally $24.99, these mitts are on sale for $14.99.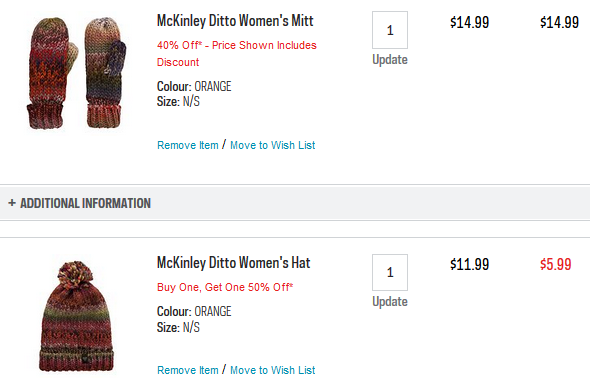 Right there is a matching set! That is a $45 mitt and hat set that I will be picking up for just $21.
There are a few other items I wanted to mention. If you are looking for warm winter mitts and yet the first pair I pointed out is just a little too costly, then check out the Kombi Snow Valley Women's Mitts on sale from $49.99 down to $24.99. Buy one pair and get a second pair (of any winter accessory) 50% off.
Next, this McKinley Ranch Men's Hat is perfect for keeping his head warm. There are two different colour combinations so you could buy one of each. Originally $19.99, they are now on sale for $11.99 each. If you purchased two hats, your total would only be $17.98.
Lastly, these Quiksilver Mittseor Kids' Mitts are a great buy but it does not say the original price. The 'previously reduced' price is currently $29.99. Consider getting two pairs for $44.98 in case your child loses one mitt.
(Expiry: Unknown)