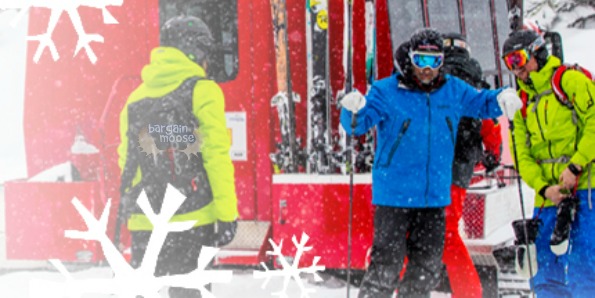 Sportchek is having a spend more, get more event right now on winter outerwear. This means that if you spend more than $249, you'll get a $50 gift card for your next purchase. If you spend $499 or more, you'll get $100 back in gift cards for your next purchase.
You'll get your gift card in the form of a code if you shop online or a card if you shop in-store. You have until January 31st, 2015 to redeem your gift card, which means it will be perfect for getting even more discounts on your Boxing Day deals!
While $500 might seem like a lot to spend on outerwear, you can shop for men, women and kids and if you have three boys who are rough on their winter clothing like mine, $500 might just be a start. The purchase has to be on pants or jackets, but not just winter coats and pants, there are also rain coats that you might need to get now that the wet and windy weather has begun.
I like that Sportchek carries the best brands and if I had a baby, I know he'd be nice and snuggled this winter in this The North Face Toasty Toes bunty infant suit for $119.99.
She would be the sweetest looking girl on the slopes, or at recess in these Roxy Tonic insulated girls pants for $109.99.
My husband desperately needs a warm winter coat. Last year he bought this thin flimsy thing that really is not going to keep him warm on the 1.5km trek to take the kids to school. If he wanted to go all out, he could get this The North Face Himalayan parka, which sells for $749.99. With the discounts available, if he bought this jacket, he'd get a $100 gift card, which he could use to spend on me ;)
Normally, you'd need to spend $99 to get free shipping, which if you are taking part in this deal, you obviously are. If you looked around and decided you didn't want to spend that much, but are spending more than $49, you might want to use the coupon codein our forum to get that.
(expiry: 3rd November 2014)