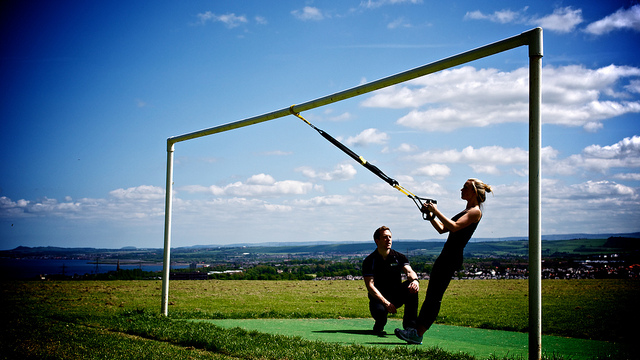 Want to take your workout to the next level? What about with TRX? While I've never tried it, I've heard from multiple friends that it is quite a workout with great results. You don't need to head to the gym to do it, instead you can get the TRX home kit from Sportchek for only $149.99 with a regular price of $199.99.
If you are just starting to work out, going to the gym may feel very daunting. I remember when I first started, I was so weak and didn't want to be embarrassed at the gym. While I now know that no one really cares what you do at the gym, that fear can be real for a lot of people. So, I worked out from home using DVDs and dumbbells until I felt comfortable enough to attend the gym. This TRX kit might do the same thing for you that it those DVDs did years ago. TRX is tough and you might not want to enter a class without knowing the basics that you can learn easily from home.
The kit includes:
Suspension Trainer
Door Anchor
Guide
Suspension Anchor
Door Placard
Wrist Band
Carry Bag
Instructional DVD
Another reason you might not be able to attend traditional TRX classes is that your gym doesn't offer them. The gym I am at now does not. But, you could also be a new mom and have a baby or child who absolutely hates the daycare. This was me with my older children. I had to workout somewhere that they could see me all the time. I wish they had something like this when they were little that I could have done from home.
The reviews are great for this set:
This is a great piece of equipment for using at home. I live in a small apartment and the door mount works great. It gives a great workout without having to worry about really hurting yourself. It give one of the best workouts ive ever had and use it regularly.
I shopped around for this item and while I found it at less than the regular price, no other store beat the sale price. In fact, the two fitness stores that I found it at also had additional shipping fees and one didn't have any in stock.
Here is a TRX video of the top 10 best TRX exercises just to get you in the mood:
Photo credit: Living Fitness
(Expiry: Unknown)