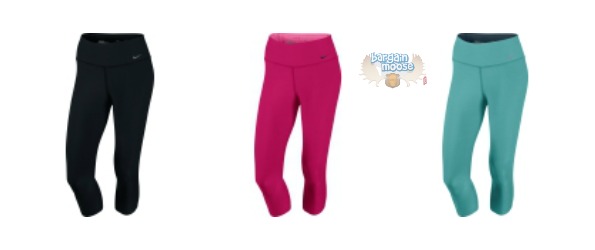 If you are looking for a gift idea for your wife or friend who is a fitness buff (or just likes performance clothing), Sportchek has the Nike Legend 2.0 capri tights on sale for only $47.99, with a regular price of $79.99. Because today is also No Minimum Monday, these tights will also ship for free with coupon codeMOOSESC.
I really love a good capri tight for working our or running. They usually also look great enough to wear to do errands as well. Nike is a well-known brand, so you know you are getting quality tights. The 2.0 is an improvement from their original version. They reduced the waistband and increased the rise so you stay covered when bending and stretching. I have to say, that is super important, as my pet peeve is having to adjust my clothing while working out! When the waistband rolls down when I'm in front forward bend, it takes away that zen yoga feeling.
You also want to look good while exercising, so the v-shaped seam at the waist enhances all your curves, while distracting from the curves you want to hide. It has spandex in the fabric to give you a bit of a stretch on the days you need it.
It has a little back pocket to carry what you need while out for a run as well. You'll also stay dry with sweat-wicking material actually made from recycled plastic bottles.
There are a few colours available including teal, pink and black.
I shopped around for price comparisons on these tights, and while they weren't readily available in Canada, the few places I found them in both Canada and the U.S. sold them for around $80 (plus whatever shipping that store charged).
You can shop around for whatever else you might like at Sportchek, since this is No Minimum Monday, everything ships for free.
(Expiry: 8th December 2014)