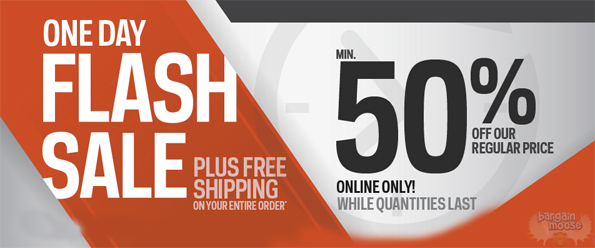 Back in April, Eva wrote here about a flash sale on the Sportchek.ca website, which at that time, was a one day only event. It must have been a successful sale for Sport Chek, because they're having another one today! This time, it's a similar theme (minimum 50% discount but it's actually up to 70%) but there are a range of different items on offer. There's also free shipping with no minimum spend!
There are not a huge amount of items on offer in this sale, but there are a few good buys which are worth checking out. The prices on the site already reflect the extra discount, so you know exactly what you are going to be paying. The following areas are on offer:
If there was something you had your eye on, check it out now to see if it's a decent price. I'll pull up a few examples for you to see what kind of things are on offer:
Male Footwear:
Female Footwear:
Apparel:
Equipment & Gear:
As I write this post, I can see that a few items are already sold out – so get in there fast if there's something you are interested in.
(Expires: 22nd May 2015, 6am EST)