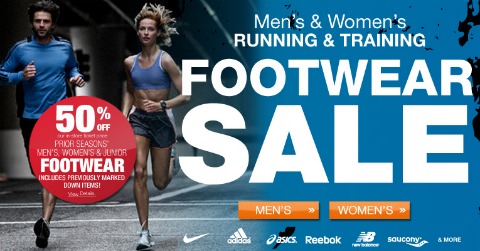 Until 21 March, 2011, SportChek is offering 50% off all prior season shoes on their online website. The prices online reflect the discount of 50% off  in-store prices.
This promotion includes prior season's Men's, Women's, and Junior footwear. It also includes previously marked down items, but excludes golf and cycling footwear.
On the low end of prices, are these women's Nike Balance 552 Training Shoes for $39.88. In the mid price range are these top-selling Asics Gel Rocket Rocket 5 Indoor Court Shoesfor $69.99. For $169.99, you can get these Brooks Glycerin 8 Neutral Running Shoes.
For men, 2 of the top rated shoes come in a higher price and a lower price for all budgets. The Asics GT 2160 Running Shoeis $149.99, the New Balance MX757WB 2E Wide Training Shoes are $49.88.
Great time to pick up some new shoes, especially if you don't care about wearing prior season's shoes. I really can't say that I notice much difference in the styles of running shoes from year to year.
As I posted about here, save $10 off your order of $50 or more by using the coupon code: sunkist!
(Expires 21 March 2011)