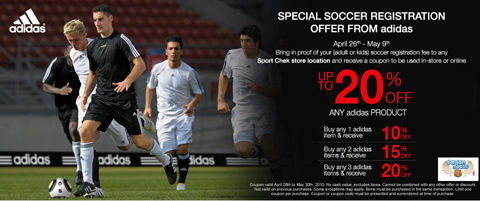 Are you registered in soccer this season? Bring your proof of registration (for you or your child) and receive a coupon to be used in stores and online, at Sportchek Canada.
You can save up to 20% on your Adidas product purchase. When you buy 1 Adidas item, you receive 10% off, 2 Adidas items receive 15% off, and 3 Adidas items gets you 20% off. Items must be purchased in the same transaction. This offer is from Adidas and Sportchek expires 9th May 2010. Coupons can be redeemed up until May 30th 2010.
Sports wear takes quite the beating when you are playing competitively, especially shoes. Adidas has great cleats for all different sports, and while this offer is valid, you might as well replenish your sports wear and equipment.