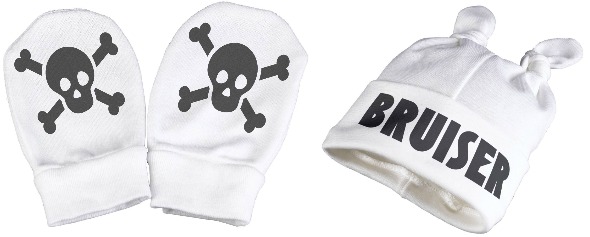 Do you have an infant at home, or know anyone who has an infant? These Spoilt Rotten Baby Skulls Design Organic Cotton Scratch Mittens are a great way to prevent your little one from scratching their face while also keeping their teeny-tiny hands warm. The Spoilt Rotten Baby Skulls Mittens are just $3.99 including shipping.
When my son was born his skin was so soft and sensitive. Anytime he brought his hand to his face he would end up scratching himself. I found that little infant mittens were the perfect solution, and since he was a winter baby they even kept his hands warmer. These Spoilt Rotten Baby Skull Mittens will be perfect for you and your little one, and the price is perfect too. These mittens will cost you just $3.99 and you will even get free shipping.
The Spoilt Rotten Baby Skull Mittens are made of 100% thick Organic Cotton and only come in one size. For the most part I would imagine that most infants have about the same size hands. These mittens have an adorable skull embroidered on them which makes them an excellent Halloween theme item, or an excellent item if you just love skulls anyway (like myself). As far as I am concerned, babies could wear these adorable mittens all year round. If you don't want to put skulls on your baby year round like I would, then you can check out the other Spoilt Rotten baby mittens available for the same price range.
Here are some other options for infant mittens from the seller Spoilt Rotten at Amazon.ca:
These organic cotton mittens for your infant are all $3.99 per pair. Since you don't have to pay any additional fees for shipping and handling, you shouldn't have to think long about making this purchase. This seller also has matching hats for most of their mitten sets for just $7.99, or you can buy select hat & mitten combos for $12.99.
These infant mittens are shipped and sold by a secondary seller called Spoilt Rotten CA. While they are not shipped and sold by Amazon Canada themselves, the seller is well rated and even includes free shipping. Amazon.ca would require you to spend $25 to get free shipping, so this seems like a win-win situation.
(Expiry: Unknown)