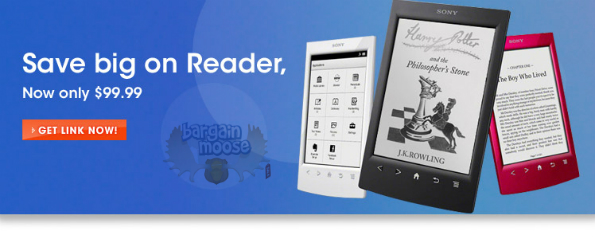 Put all your books in an eReader and your eReader in a case from Sony Canada!
Some of the items on sale are:
I am a huge proponent for eReaders. I think if you're gonna read a book, having a paper book is dumb. That's why my book is only on eReader and getting a paper copy is really a side project. If I get it out as a paperback, that's fine. If I don't get it out as a paperback, that's fine too. The reason is that paper books, as much as people want to deny it, are dying. Amazon, the biggest book retailer in the world, is and has been for the last two years, selling more eBooks than paper books.
So if you haven't made the jump to the eBooks world, or if you're looking to upgrade your eReader, this is a great chance to do it. The Sony Reader is 6" so it's ultra portable, and the eInk touchscreen means that it will last a very long time between charges. For content you can shop the Sony eBook store or load your own ePub or PDF files
Standard shipping is free for smaller items, but the cost for express delivery and larger items depends on location and quantity/weight.
(Expires: Unknown)