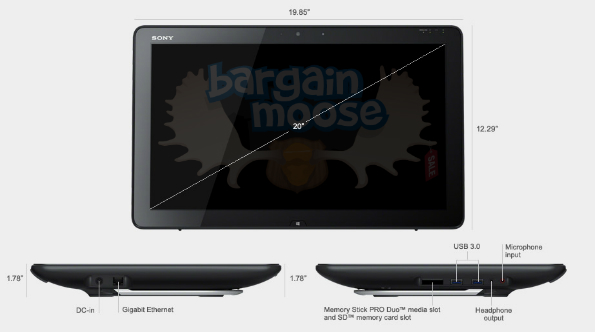 Sony is at it again with another coupon code! This time, take another $100 off the Tap20 Touch Enabled All-in-One!
Click here to get your Vaio Tap20 @ Sony.ca now
Coupon Code: CJP613100
Discount: Additional $50 off Vaio Tap20
Expiry: Unknown, end of the week
First off, if you aren't into the all-in-one vibe, make sure you check out this deal to save on an awesome Sony Vaio E15 laptop and get a great deal on a processor upgrade, if you choose to do so. If the Tap20 is what you want, then this is a great deal. It starts at an already discounted $969.99, but you only pay $869.99 with this $100 coupon code!
I've always really dug the all-in-one computers. I remember when Apple released the second iteration of the iMac. It was the one that looked like a basketball with an arm sticking out of it holding a screen. The thing was beautiful and I wanted one so bad! Nowadays, everyone is doing an all-in-one and they are more closely related to the "picture frame" iMac. The new breed of all-in-one computers are essentially giant tablets with a wireless keyboard and mouse, and the Tap20 is no exception.
The real difference is the ability to customize the Tap20. Because of the form factor, you can't customize everything, but you can change your CPU, RAM, HDD and a few other things, the stuff that really matters to most people.
Shipping is FREE!
Don't forget to stop by the Bargainmoose forum for more Sony deals!
What's your favorite form factor? Laptop, desktop, all-in-one, phone, tablet? Something else? Let me know in the comments below!