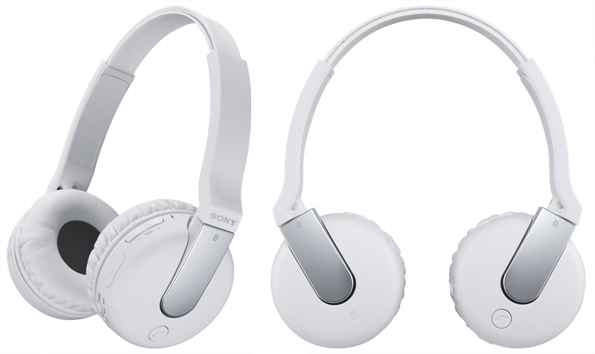 If you're on the lookout for some new headphones, then consider the deal on these white Sony DRBTN200W over-ear NFC / bluetooth headphones from Future Shop Canada. You can pick up these futuristic-looking bad boys for only $49.95 and that comes with free shipping to your home!
These Sony headphones say "Limited Quantity Available" on Future Shop's site, so I don't know how long this deal will last. If you like the look of this headphones deal, grab a set while you can. If you know someone who likes their music, these could be a neat Christmas gift.
In doing a price comparison, I think these headphones are a slightly older model, but they are still selling at a number of other online Canadian retailers. For example, they're $107 @ CDW, $120 @ Newegg.ca, $130 @ PureMobile, $130 @ The Source. Strangely enough, you can pick them up on Amazon for $84 with free shipping, but that is actually fulfilled by the aforementioned PureMobile – it's cheaper to buy through their Amazon portal than on the PureMobile site itself. I did spot these headphones also for $50 on the Sony Canada website, but they're not in stock anyway, so not available to buy at that price. Therefore, the deal on these headphones at Future Shop Canada is definitely far better than all the rest!
As for reviews of the Sony DRBTN200W headphones, there are a number of ratings on the Future Shop site, though not very many. The reviews do seem to be a mixed bag with some people really loving these headphones and others finding them not so comfortable. A consensus seems to be that these Sony headphones are really good value for the price. I can't find many more reviews elsewhere, even on Amazon.com – which is a surprise.
In conclusion, these do seem like a great deal for the money but they probably aren't going to be as comfortable or durable as headphones which are a few hundred bucks.
(Expiry: unknown)