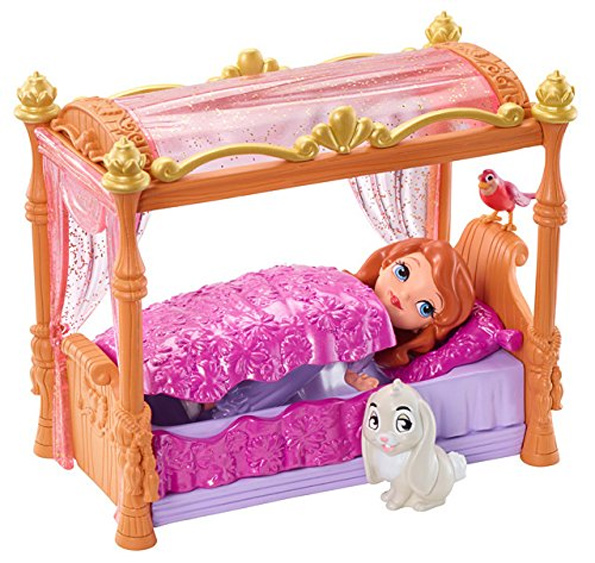 I know I only just published a post about Walmart an hour ago, but I found another hot deal on a popular range of kid's toys and I just had to share! This time, the toy is from Sofia the First, a very popular character with little girls (and some boys, I am sure). The item is the Sofia Royal Bed and it was originally priced at $24.94. But right now, you can grab this item for only $7! Wow!!
The Sofia the First Royal Bed is in the clearance section at Walmart, and as such, it may not last long at this price point. Historically, we've seen items like this sell out INCREDIBLY fast from Walmart. If you're interested, buy NOW think LATER!
This Disney Sofia toy is recommended for children aged one to three years. I did have a little concern at this age range when seeing the size of some of the items in the picture, but one mom had this to say:
My 2 year old loves Sofia and out of all her Christmasgifts, this is definitely one she loves to play with often. It does have some small pieces but she's been good about keeping them out of her mouth.
And another mom stated:
My granddaughter who is 3 loved this...she is a huge Princess Sofia fan!!
What about you? Are there any massive Sofia fans in your household? My little girls were never a fan of Sofia; that trend kind of just passed them by.
This is really a stupendous price from Walmart – it cannot be beaten. Elsewhere, the same Disney toy is $20 at Toys R Us and $30 at Amazon. That just goes to show you how good a deal this really is.
What about shipping? Shipping WILL cost you extra which is a bit of a bummer. But if you're willing to order online and collect at your local stores or Canada Post, then that won't cost you a cent.
(Expires: unknown)