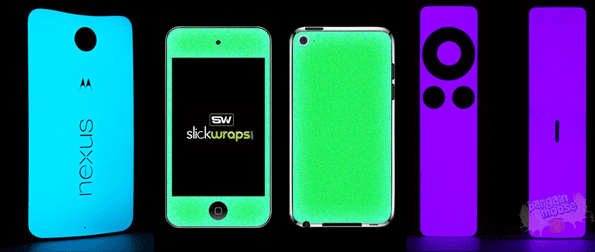 Ever heard of Slick Wraps? They're a US based site which we've never before mentioned on Bargainmoose. Slick Wraps specialise in accessories for and the protection of consumer electronics, with the most popular items being their skins for cellphones and tablets. And just now, they've got a coupon code out for a 50% discount on anything on their entire site!
Click here to shop online @ Slickwraps.com now
CouponCode: MEM50
Discount: 50% off site-wide
Expires: Unknown
While I don't have the exact expiry date for this coupon code, it has been released for a Memorial Day sale, which is tomorrow in the US. It's likely that the coupon will expire after Memorial Day, so order soon if you are interested. Please note that there is a 20% coupon code for signing up to their emails – it's not stackable with the above 50% discount.
One of the most popular ranges on the Slick Wraps site is their glow series – these are neon coloured skins and cases, which are made from a photo luminescent vinyl. I've used them to illustrate this blog post, you can see the examples in the image above. These wraps charge up and then glow for hours afterwards. Aren't they funky? I'd love one for my iPhone but I have quite a few backup cases in the drawer, which I haven't yet used. :)
Slick Wraps has a nice tagline, "Make your iPhone your own," here on this page for the iPhone 6. They have all sorts of wraps, everything from the wooden style to the metal series.
Canadian Shipping
Shipping to Canada for orders placed on Slick Wraps is actually very reasonable. It's a shame it's not free, but them's the breaks! For example, on this glow series wrap for the iPhone 5 which is $3.99 and then $1.99 after the discount, the shipping cost to Canada is $2.78. Obviously in this case, the shipping is more than the cost of the discounted item, but you've got to take the total cost into consideration. This means that this skin is $4.77 to get shipped to your home (plus taxes).
Customs and Duties?
On the Slick Wraps FAQ pages, they state that customs and duties are your responsibility for any orders shipped out of the US. However, on the our story page, they state that all their products are made in America, and sourced from local vendors. This means that it's likely that Slick Wraps falls under the NAFTA agreement – meaning items can be shipped to Canada without getting charged any import fees. It doesn't specifically state this on their site, but I am sure this would be the case. If you've ordered from Slick Wraps in the past and have any more info you can give us, do please comment below!