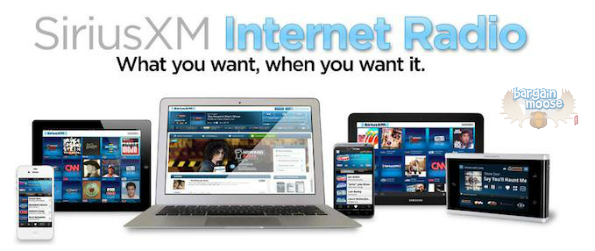 Get a full year of SiriusXM Internet radio for only $48!
First thing to know is that this is Internet radio not satellite radio. So this won't work with your car's satellite radio system but rather with your computer, smartphone or tablet. It's basically the same service except it's delivered over the internet as opposed to a satellite.
Normally the service is $95.88 but you save $47.88. It's yours for $48! Pretty sweet deal.
Now, last time I wrote up a deal for SiriusXM, someone mentioned that they are pretty slimy with trying to keep you using their service. Well, I signed up for a free trial just to try it out. I knew I wasn't going to use it because I don't really like music all that much and I am always listening to podcasts and audiobooks in the car. So even though the service is great, I cancelled before my free trial was up. Then I got billed by SiriusXM. I was looking towards a fight to get my money back but when I called them up the lady who helped me refunded my money immediately and I saw the transaction come through my bank three days later! Other than the initial issues it was a great experience.
(Expires: 31st December 2013)