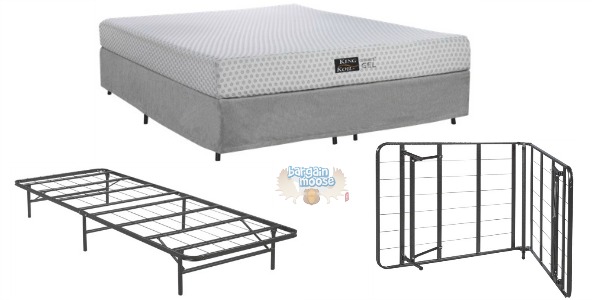 A bed frame and box spring in one, this durable folding box spring frame will help you sleep like a baby. This frame was $169.99 but is currently on sale for $59.99. This deal also meets the minimum for completely free shipping.
My husband and I have moved more times than I can count due to his work. The last time I moved, it was from a high-rise apartment to a condo. The elevator ended up backed up and our box spring and mattress ended up carried down eight stories. This put some significant stress on both our movers and on our box spring. Moving season is coming up this summer, and I am happy to say we are staying put this year.
If you move frequently or need a quick and easy bed solution, you should consider this double folding box spring frame today. This metal frame folds for easy storage, but when extended is a frame for a full sized bed. You will not need a box spring for this frame, simply slide your mattress on top and you have replaced both your box springs and bed frame. This frame is a durable steel frame that can hold up to 750 pounds. Included is a washable cover to hide the metal frame and give your bed a less industrial look. I bet you could also throw a bed skirt over top of that cover. Included also is brackets so you can attach your own headboard to the frame. This is ideal for those of you who like DIY projects and are interested in making your own headboard. If you need some inspiration, here are 40 headboards you can make by bedtime over at DIY & Crafts.
Walmart.ca had this exact frame, but it is currently out of stock. The listed price for this exact frame is $178. A very similar model created by the brand Structures by Malouf is available for $149.99 at Amazon.ca. You could also buy a similar folding frame in a full size made by KB Furniture atLowes.cafor $316. This price at Best Buy is ideal.
There are no current reviews for this frame. The only complaints I have seen with this style of frame is that sometimes they squeak, but no one has made that comment about this brand and model. Most people seem thrilled how quickly and easily this style of bed sets up when looking at the reviews written for other brands.
This price is a steal for this durable frame, so I would suggest grabbing this deal while you can. I did have a few issues with the checkout where it told me the item was not available for delivery. After fussing with my zip code and address the order processed with free shipping for both a Toronto and Montreal address all the way up the final payment stage. This is bed is ideal for students, those who move often, a kid's bed or even a spare bedroom.
(Expiry: 11th June 2015)