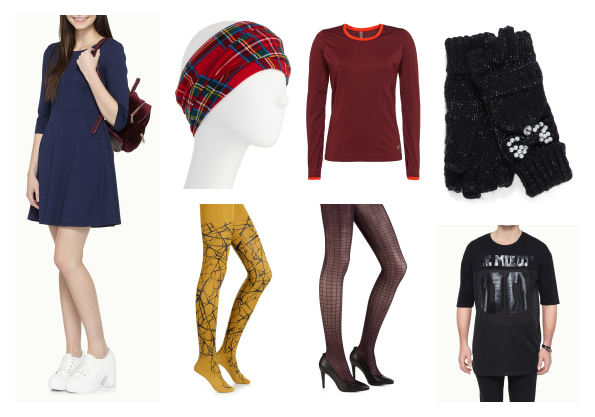 You absolutely must hit up Simons Canada while they are having their savings event with up to 87% off. You will also receive free shipping, a special bonus as they usually require a $100 minimum. This is a sale you certainly will not want to miss and I have highlighted some of the best deals below.
let us launch right in to the deals! This pair of Pearly bow gloves was $25 and is now on sale for $4.99. They are one size fits all and only a few are left in stock so you will need to move quickly. For evenings out, parties, dinner dates, and more... pick up the Mini check pantyhose on sale from $22 down to $4.99. All three sizes - small, medium, and large - are in stock. These tights are even made in Canada!
These Multicoloured bouclé tweed bootie slippersare super adorable and I wish I had not already ordered slippers as I would have chosen these instead. Originally $38, they are now on sale for $8. The little bow at the side just drives me crazy - so cute.
This Mesh-back long-sleeve tee was $38 and is now $9.99. The mesh is breathable and great for fitness. Pair this top with the Fluid faux-suede flared pantfor a complete outfit under $20. Originally $38, they are also now $9.99. I like the shirt, but I am not too fond of the pants.
In dresses, I found the Blooming flower neoprene dress on sale from $48 down to $9.99. It comes in two colours and a couple of sizes are left in stock. This twik Sporty-back jersey dress is also on sale from $50 down to $9.99. I like both these options as they are an all-in-one outfit for less than $10.
The men's section has some super awesome deals in it as well. This Mesh Football T-shirt was $38 and is now just $4.99. That is approximately 87% off the original price. Only size large is left so get it while you can. Likewise, this Copper band T-shirt was $28 and is now $4.99. Sizes small and medium are in stock.
To keep your ears warm this season. Try out a Wide tartan headband or a tartan headband. Originally $9.99 each, they are now on sale for $1.99 each.
These are just a few of the deals I found. Be sure to check out the rest of the sale for many amazing deals on clothing, accessories, and more.
(Expiry: Unknown)