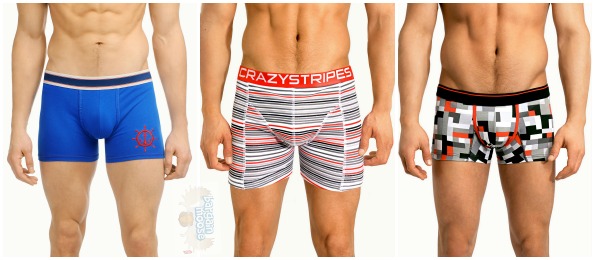 Simons Canada is offering up to 75% off men's briefs.
The biggest deal I found is on these Metallic Logo Trunks that were $20 and are now only $4.99. That is 75% off right there folks. They are still available in sizes medium and large.
There is, however, a ton of briefs that are on sale for 50% off also. These Offset stripe boxer briefs were $20 and are now $9.99. They are really bright and fun. and a bit longer in the leg for men who like more leg coverage. The Ergonomic mixed boxer brief is also long in the leg but only two colours done in a colour-blocking style. originally $20, they also are only $9.99 now.
How is your inner sailor? These cute little Embroidered anchor trunks will let you play sea captain all day for only $9.99, originally $20.
You should also check out these bottoms while you are shopping, all only $9.99 (originally $20):
There are just so many great styles on sale for a good price. At Simons, shipping is now a flat fee of only $4.99. So even if you were to only order a few pairs, you have already made up for the shipping cost and saved your self a bunch of money on top of that. I really wish they had the 75% off pair in my husband's size, I would be loading up right quick! Even so... I am eying up a few of the other pairs.
(Expiry: Unknown)