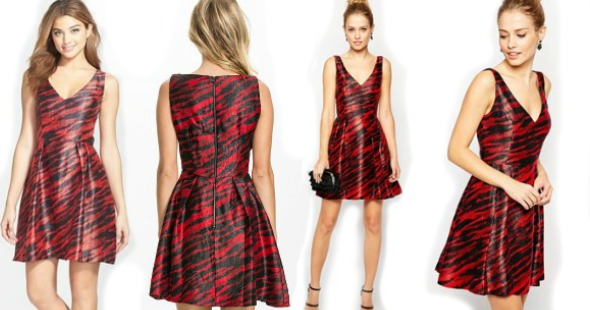 I feel like we are on the home stretch of fall. Just a few more weeks and the weather will super cold, and we will be welcoming spring as soon as it can get here. Along with Spring and Summer comes outdoor parties and dinner dates. Right now French Connection Canada has a variety of hot styles on sale for hot prices. This Siberia Satin Dress really caught my attention. While I probably wouldn't pay the regular price of $148, this dress is on sale for just $59.99 which is totally reasonable.
The shipping costs can get a little confusing when it comes to French Connection Canada. Ultimately, your best option is to spend $50 and get free shipping with their coupon code. Fortunately this Siberia Satin Dress will cost you $59.99 which also gets you free shipping. If you shop around in their sale section,  you may want to make sure the item you snag is over $50. Otherwise you will be looking at spending between $13 and $70 for shipping depending on your province. Ontario is just $13 while Yukon is $70. Usually French Connection requires a $100 minimum spend for free shipping, so this is pretty cool.
Coupon code: FCCA50
Discount: Free shipping on orders over $50
Expiry: Unknown
This Siberia Satin Dress is just $59.99, which will leave you with some spare cash to do some Christmas shopping too. I am sure you can add something else from this FrenchConnection.ca sale to your shopping cart as a Christmas gift. Anyway, back to the dress.
This Siberia Satin Dress boasts a stunning red and black almost zebra stripe pattern. I imagine this dress with a hot pair of red heels and red lipstick, what about you? This dress is sure to accentuate many figures for just $59.99. I like how the dress comes in a little tighter around the waist and then has an almost pleated look as the skirt of the dress widens. This should really draw some attention to those hips! You wouldn't even have to worry about buying a special bra to wear with this dress. The shoulder straps and back are covered just enough that you could wear your favourite bra. The neck also doesn't scoop low enough to show off too much of your girls, if you get what I mean. This dress is a great investment if you want to be modest and stylish.
This dress is still available in sizes 0, 2, 4, 6, 8 and 10 but at this price I am sure it will sell out quickly. If you are unsure of how the French Connection sizing works, you can always check out the sizing guide which is available right below where you would select your size.
You can view all of the French Connection Canada coupon codes in the Bargainmoose forum.