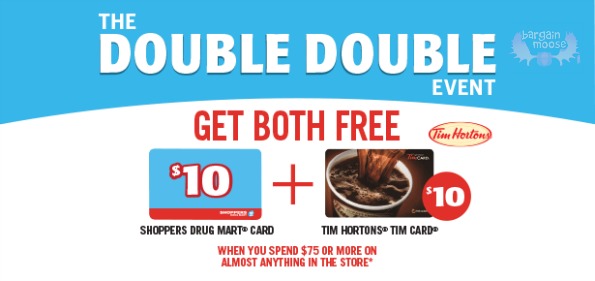 Spend $75 at Shoppers Drug Mart this weekend and get a $10 Tim Horton's gift card and a $10 Shoppers Drug Mart gift card.
You can buy almost anything in the store (with certain exceptions) this weekend to get up to your $75 and the cashier will actually just hand you two gift cards. I've got an idea. Buy something for Dad from Shoppers Drug Mart, plus something for yourself to get up to $75. Then, take your two gift cards as end-of-year gifts for your lovely children's teachers. I've heard from teachers that gift cards are their favourite gifts and I always give my bus driver a Tim Hortons gift card (because he must need coffee after driving 50 kids around every day). Also, anyone could find something at Shoppers Drug Mart, so this is a great gift card to give too. Your other option is to just spend it all on yourself. What a concept!
Fine Print:
Offer excludes prescription purchases, products with codeine, insulin and select insulin products, tobacco products (where applicable), newspapers, stamps, lottery tickets, event tickets, transit tickets, electronic gift cards and prepaid phone cards.
(Expiry: 2nd June 2013)