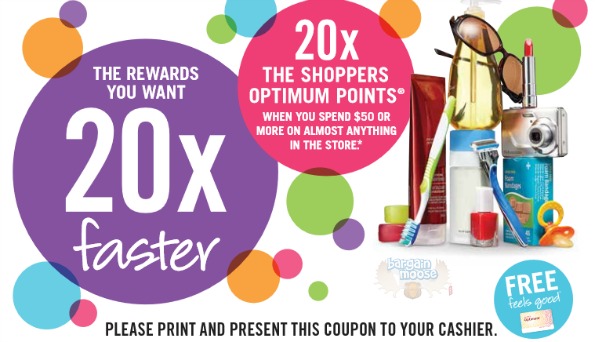 It is that time again; time to rake up those Shoppers Drug Mart Optimum Points to earn you free purchases. Get 20x the Shoppers Optimum Points when you spend $50 or more on March 25th and 26th only with this printable coupon for Shoppers Drug Mart Canada for just those 2 days only.
The Shoppers Optimum points system is by far the best way to earn free items in my mind out of all the card offers out there.  If you don't have one yet, I suggest grabbing your free one asap.  You earn points on almost any items bought and those points add up to be used towards purchases.  With this coupon, you will be able to load up on those points earning yourself 20x the regular amount on purchases of $50 or more.
All of the regular conditions apply and they are outlined in the fine print right on the coupon.  You will be able to use coupons towards your purchases to save you money as well.
Instead of heading to the grocery store this week, get your groceries at Shoppers Drug Mart on either Tuesday or Wednesday to get even more points.  Since they offer not only health, medical, and beauty supplies, but packaged food, freezer items and even bread, milk and eggs, you will be able to get most of your shopping done there.
When you don't see the points added to your account don't worry, all points will be added by the end of the day on April 9th 2014.
You will find this Shoppers Drug Mart coupon and all others, posted up on the Bargainmoose coupon forum.
(Expiry: 26th March 2014)